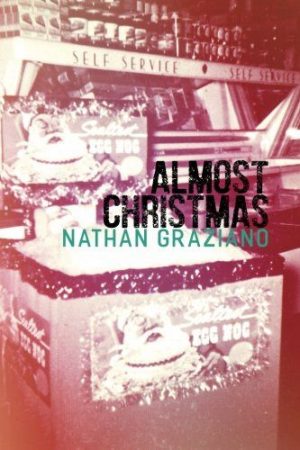 Red­neck Press is proud to present our newest book, Nathan Graziano's Almost Christ­mas.
DESCRIPTION:
The char­ac­ters in Nathan Graziano's dark fic­tion­al back­drop are waiting–waiting for the next fix, the next fling, the next inevitable mis­cue or mis­take. This col­lec­tion of short prose pieces tack­les the break­down of the mod­ern mar­riage, the exis­ten­tial despair of tech­no­log­i­cal times, and the ubiq­ui­ty of the cur­rent opi­oid epi­dem­ic. With­out flinch­ing, Graziano intro­duces a hard­ened world pop­u­lat­ed by the des­per­ate and vul­ner­a­ble peo­ple we'd rather ignore while string­ing our lights and singing our car­ols. Almost Christ­mas reminds us that our myths are sim­ply fan­cy lies.
BIO:
Nathan Graziano lives in Man­ches­ter, New Hamp­shire. His recent books include Hang­over Break­fast (Bot­tle of Smoke Press, 2012), Some Sort of Ugly (Mar­gin­a­lia Pub­lish­ing, 2013) and My Next Bad Deci­sion (Artis­ti­cal­ly Declined Press, 2014). He writes a base­ball col­umn for Dirty Water Sports in Boston. For more infor­ma­tion, vis­it his web­site: www​.nathangraziano​.com
AVAILABILITY:
All orders ful­filled by Ama­zon.