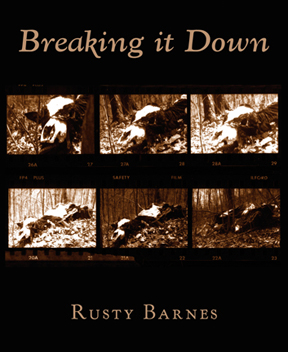 Blurbs:
"The jolt of this slim, intense col­lec­tion is brac­ing. Barnes's nar­ra­tive art is as mas­ter­ful as his vision is pro­found­ly hon­est and humane. His char­ac­ters, like Robert Frost's, are main­ly rur­al, poor, and farm-bound, and yet their agons are those of clas­si­cal tragedy. Voic­ing these inar­tic­u­late char­ac­ters with image, ges­ture, and nar­ra­tive elo­quence, Barnes opens the core of their imag­ined lives."
—DeWitt Hen­ry, author of The Mar­riage of Anna Maye Potts
"The sto­ries of Rusty Barnes are short, sharp, and shock­ing in their human­i­ty. His char­ac­ters are like sad love songs, sweet and full of hurt."
—Steve Almond, author of (not that you asked) and The Evil B.B. Chow and Oth­er Stories
"Rusty Barnes is as com­fort­able writ­ing from a child's point of view as an adult's or an old man's or a woman's, young or old. Behind all his char­ac­ters, though, there's a qui­et­ly humane autho­r­i­al pres­ence inter­est­ed in explor­ing our frail human­i­ty in a way that reminds of the ear­ly work of Ray­mond Carv­er. Rusty Barnes is his own writer, though, and his flash fic­tion is terrific."
—Edward Fal­co, author of Wolf Point
Vis­it Sun­ny­out­side Press to order Break­ing it Down. Or you can use Ama­zon. The offi­cial release date was Novem­ber 8th, 2007. You can read reviews at the Sun­ny­out­side Press site.
If you'd like a signed copy, send me an email ask­ing if I have any books. Some­times I do, some­times I don't. We can work out the pay­ment details over the email.