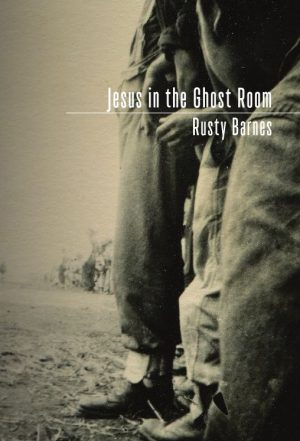 Blurbs:
"There is some­thing straight no chas­er about Barnes' poet­ry. He is not a polite writer–he eas­i­ly tra­vers­es the raw to the profound.There is a frank­ness about his own short­com­ings, his sex­u­al­i­ty, his com­ing of age, his father, and the rur­al burg he was brought up in. Like the flash of a pedes­tri­an Zip­po lighter–Barnes bril­liant­ly lights up his world and ours with images that will sear the read­er if he or she does not exer­cise caution."
—Doug Hold­er, author of Last Night at the Wursthaus
"'It's pure mag­ic and we only have so much' writes Rusty Barnes in one of the sharp-edged and lumi­nous poems that make up Jesus in the Ghost Room. In lan­guage that is clear-eyed and unflinching–'This is the year of ter­ri­ble things'–Barnes looks into the dark cor­ners of life. But his lines shine a bit of light into those cor­ners, enough to recall a father's hands, stained with grease after a day's work, the taste of a salt­ed raw pota­to, the small cer­tain moments that make our short lives bearable."
—Al Mag­innes, author of The Next Place
"Rusty Barnes is a rugged and hon­est poet. His lan­guage is pure Amer­i­cana, deeply entrenched in the every­day, in fam­i­ly and in place. The poems in Jesus in the Ghost Room pay homage to mem­o­ry and are an ode to his late father, but with lines such as 'Oh Father/I wish I could invoke your smell,/the way your cig­a­rette ashed onto/the sick-filled car­pet on the edge/of what we could read­i­ly say,' it is clear that this col­lec­tion is about sal­va­tion, an epic prayer for the human spir­it and for an increas­ing­ly tumul­tuous world. Even when the poem is about piss­ing out a fire, Barnes rais­es his voice to what could only be a High­er Pow­er. 'Long live the resin-/filled pine and the twigs I used for tinder.'"
—Joshua Michael Stew­art, author of Break Every String
Vis­it Ama­zon to pur­chase Jesus in the Ghost Room.