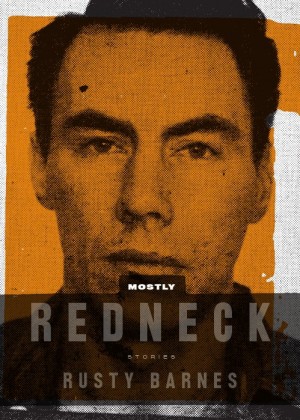 Most­ly Red­neck: Sto­ries, is here, from sun­ny­out­side press. As you might guess, most of the book, 2⁄3 of it at least, maybe more, is direct­ly in keep­ing with Fried Chicken's core val­ues. I hope you'll pick up a copy. In the mean­time, here are some quotes from very good and kind people.
It's not unusu­al these days to find folks who can write a gleam­ing sen­tence, a beau­ti­ful para­graph, a shape­ly scene: a mul­ti­tude of MFA pro­grams have seen to that. Rusty Barnes gives us the love­ly lan­guage, sure, but he uses it to burn a hole through the appar­ent world, and to show us the world with­in the world that is thus revealed. Rusty Barnes can real­ly see, and he teach­es us to see as well, gim­let-eyed and unafraid. What a gift!"
– Pinck­ney Benedict
Ever feel proud imme­di­ate­ly after a fight that you've won or bet­ter yet, one that you've lost? That's the same pow­er­ful rush Most­ly Red­neck will inject into you.
–Tim­o­thy Gager
These razor-sharp sto­ries are gems that give us tough and ten­der char­ac­ters who rep­re­sent the best and worst of us, in prose so sharp and inven­tive that we're shown a sky "the col­or of an old dog's mouth" and dis­cov­er Sad­dam Hus­sein sell­ing hot cashews near Faneuil Hall. Most­ly Red­neck is a love­ly, raw col­lec­tion about the won­drous nature of every­day life in all its beau­ty and ugliness.
–Silas House
Review and Excerpt­ed Reviews:
Most­ly Red­neck: Stories
Rusty Barnes. Sun­ny­out­side, $18 trade paper (156p)
ISBN
9781934513323
Barnes' col­lec­tion of sto­ries about his native Appalachia is a case study in economy–each word has been honed and sharp­ened to a point, enabling him to effi­cient­ly cre­ate a sense of place. It's a fit­ting match for this assort­ment of mur­der­ers, musi­cians in small-town cov­er bands, and ex-cons who fell short of the brass ring that make up this col­lec­tion. Whether he's writ­ing about a char­ac­ter forced to put down his ail­ing dog or Sad­dam Hus­sein ped­dling hot nuts out­side Boston's Faneuil Hall, Barnes treats his char­ac­ters with rev­er­ence, giv­ing them a depth and his­to­ry that com­pli­cates stereo­types. Barnes' study of the every­day grind that nev­er goes away is an impres­sive, pow­er­ful piece of work. (Aug.)
"Sto­ry wise, if you can take a punch in the face and be able to brag about it, this is where it's at. Teen preg­nant lovers kill the fathers of their babies. Peo­ple par­ty and have sex in the woods. Scores are set­tled in com­plete beat downs. Women com­pete against each oth­er for men and their own self-worth. Men want women that are unavail­able or they hit the road and nev­er come back, leav­ing oth­ers destroyed…"
"This and sev­en­teen oth­er short sto­ries are told in direct, no-non­sense prose and rely on each oth­er, cre­at­ing an over­all per­son­al­i­ty for the char­ac­ters in the col­lec­tion: obser­vant, not direct­ly in the action, impact­ed but sep­a­rate. This col­lec­tion is best read in a few bursts, per­haps along­side a nov­el, but not all at once. Each char­ac­ter and sto­ry has a weight which makes this impos­si­ble in a pleas­ing way."