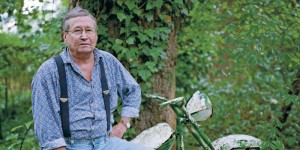 Bar­ry Hannah
I learned on Face­book tonight that Bar­ry Han­nah died. I have no con­fir­ma­tion officially–edit in, look here for con­fir­ma­tion– but I have no rea­son to dis­be­lieve my FB acquain­tances, either. After talk­ing it out and over with my love­ly and beautiful–and let's not for­get smart–wife, here's what we want to do. FCAC and Heather Sul­li­van will pro­vide a pack­et of prizes for a com­pe­ti­tion in Bar­ry Hannah's hon­or. I'll think of a good name for it so it might even make the com­pe­ti­tion vita-wor­thy, like The Bar­ry Han­nah Memo­r­i­al Com­pe­ti­tion.
First prize: pack­et of Han­nah books, Air­ships, Ray, Geron­i­mo Rex, a $25.00 gift card from Barnes

&

Noble
Sec­ond prize: Rose Met­al Press Field Guide to Writ­ing Flash Fic­tion and my book Break­ing it Down.
Third prize: Break­ing it Down
All plac­ing sto­ries will be pub­lished in Fried Chick­en and Cof­fee, and I reserve the right to choose oth­ers for pub­li­ca­tion out­side the com­pe­ti­tion para­me­ters, if I feel so motivated.
Here are the guidelines:
sto­ries must be between 2000 and 4000 words; This means 4001 is unac­cept­able, as is 1999.
sto­ries must be sent to this email address: hannahmemorialcomp@​gmail.​com
sto­ries must be sent before mid­night on Wednes­day March 31st
sto­ries must be in MS-Word or rich text for­mat and have no name or iden­ti­fy­ing marks (please check your head­ers and edit-track­ing fea­tures) with­in them
final­ly and most impor­tant­ly, sen­tence by sen­tence, Bar­ry Han­nah was one of our best. Be sure your sto­ry embod­ies his crafts­man­ship, espe­cial­ly the art of the pun­gent and rev­e­la­to­ry sin­gle sentence.
there is no sub­mis­sion or read­ing fee.
Heather will ren­der the sto­ries anony­mous if they are not already, pass them on to me and I will pick a win­ner. Prizes will be sent in the sec­ond week of April or soon­er. Ask ques­tions in the com­ments sec­tion. This post will also appear as a sta­t­ic page on the site, so you can direct peo­ple more effec­tive­ly if you share the news.