Slick with sweat, Sweets stops at the car­go train tracks to catch his breath and fan him­self with the Mobile Press Reg­is­ter. He shuf­fles under the weld­ed arch of the main entrance to the Alaba­ma Dry Docks and a uni­formed guard directs him to the employ­ment office. Sweets already knows the way. He care­ful­ly choos­es a path through piles of rust­ing scrap and cross­es long, dark shad­ows cast by cranes. Sweets repeats his qual­i­fi­ca­tions aloud over swollen lips. Near the dock, he stops in front of the tug boat, Lit­tle Ben, and catch­es his breath. The tug glis­tens with fresh paint and hand-rubbed teak. The own­er of the ship­yard, Ben­jamin Kale, tags his dead son's name to every­thing he builds. Sweets removes his hat and grips it to his chest.
"Hey now, look at olé Sweets," Wish­bone shouts. "Goin' again!"
Wish­bone is lean and tall with hair cropped close. He holds up his weld­ing mask with one hand. His black tor­so swells with muscle.
The oth­er men look up. They clap and whis­tle at Sweets from a cracked oil tanker prop. Wish­bone drops his mask and relights the acety­lene. A cloud of sparks, soot, and steam ris­es from his torch, then van­ish­es into white hot sky.
Sweets resumes walk­ing, eyes focused for­ward. At the back­door of the office, he tucks in his fad­ed blue work shirt and mops his face with a rag. Inside, unem­ployed men work the maze, try­ing their luck at each glass win­dow. Sweets rubs the foot of a roost­er between fin­ger and thumb in his pock­et. He slows his breath­ing to even, con­trolled breaths, then opens the door.
Hours lat­er, Sweets emerges from the build­ing. He sits on the first step. His hips and knees burn. He strug­gles to breath. Sweets enters and exits by the back door every Mon­day. The oth­er appli­cants sit out front. Among them, a young man with smooth almond skin slaps his thigh. He says: No parades, no bond ral­lies, no jobs. Can't even shuck oys­ters. The oth­ers nod. Some say amen.
At the back door, Sweets looks up to Wish­bone, black­ened with soot. He sits down beside him. Both men drip with sweat.
"I'll get over to Dauphin Street," Sweets says.
"Kazoola's might need you."
"Sho might."
"Ain't no way to tell," Wish­bone says.
"Got damn," Sweets says. "Maybe they'll be havin anoth­er war."
Ben­jamin Kale sits behind an ornate mahogany desk in suit and tie. He swivels in his chair and watch­es Sweets and Wish­bone through the third sto­ry win­dow. He watch­es Wish­bone move, shirt­less, and press­es his palm against the glass. Wish­bone says some­thing, ges­tur­ing with his hands, and Sweets nods. Cold air blows through new­ly installed air vents. From this dis­tance, Wish­bone could be any man. He could be white. He is young and strong and vir­ile. He might be a navy boy, home on leave. Sweets might be his father.
Sud­den­ly, the air feels over cold and Ben­jamin clos­es the vent. He opens the win­dow and leans out as far as he can. He clos­es his eyes. On the desk, a black and white pho­to­graph of his son lies face down against the wood. In the pic­ture, Ben Jr. sleeps on a river­boat bunk, his arms crossed behind his head. In anoth­er pic­ture, still upright, twin baby boys peek out from under blan­kets in a bassinet. Ben Jr.'s wife will take them away. She will take them to her fam­i­ly in New Eng­land. They will be raised with­out a south­ern accent. They will not know that Ben­jamin hired Sweets to dri­ve his pol­ished black car, despite the slide in rev­enue. They will not know that Wish­bone will use Sweets to break into the Kale fam­i­ly home.
What they will know is this: A man known as Wish­bone split Ben­jamin Kale's skull with a fire iron and only got away with his gold watch on a chain. He was nev­er found. My father will dis­cov­er the watch in a pawn shop thir­ty years lat­er. In thir­ty more years, he will die, and I will find it in his desk. I've got it in my right hand, right now. My name is Ben. The watch does not keep time.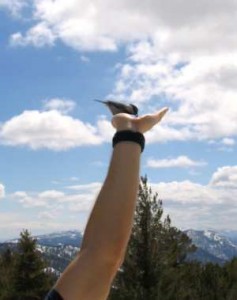 Mur­ray Dun­lap's fic­tion has appeared in the Vir­ginia Quar­ter­ly Review, Post Road, Night Train, New Delta Review, Red Moun­tain Review, Silent Voic­es and Smoke­long Quar­ter­ly and oth­ers. His sto­ries have been twice nom­i­nat­ed to the Push­cart Prize and to Best New Amer­i­can Voic­es, and his first book, "Alaba­ma", was a final­ist for the Mau­rice Prize in Fic­tion. After very near­ly being killed in a ter­ri­ble car wreck, the writer uses this site to vent: http://​www​.mur​ray​dun​lap​.com/.