A spec­tral kid named Swan­ly, deliv­ered shiv­ery Delta ban­jo licks
with mad love. Eyes rolled back, to the whites of Bar­ry Hannah.
In the irre­ducible jet stream, fight­er pilots whis­tle "Born on the
Bay­ou." Cryo­genic curly cues spell son­ic boom: Bar­ry Hannah.
Those tipar­il­lo-smok­ing slot machine cat­fish, made a river­boat tilt
whiskers and sil­ver— when they all lined up, for Bar­ry Hannah.
Some hum­ming­birds abscond­ed with a Mis­soula log cab­in, mid-
Feb­ru­ary, "This ain't your Dot, not any­more," said Bar­ry Hannah.
Dark night in North Van­cou­ver Detox; with a shaky penlight
I got awful­ly high on four lone­some sto­ries, by Bar­ry Hannah.
A bevy of hip­pie glow sticks. So anti-Star wars. Yet, a Pensacola
Rain­bow Gath­er­ing : lime, dervish, penum­bra, cerise… Hannah.
Eigh­teen-toed eager alien bon­fire, in an Antares arroyo, they sighed
over a sleek meta-parch­ment, the only, brought back : One-Line
Epi­taph for Bar­ry Hannah.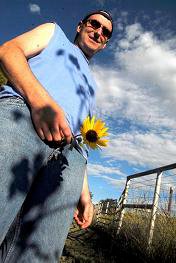 Den­nis Maha­gin is a writer from the Pacif­ic North­west. He also edits fic­tion and poet­ry for FRiGG Mag­a­zine. Some of his work can be found in lit­er­ary venues such as Exquis­ite Corpse, Sto­ry­glos­sia, Smoke­long Quar­ter­ly, Key­hole, 42opus, 3 A.M., Stir­ring, Thieves Jar­gon, and Under­ground Voic­es. An elec­tron­ic chap­book of his poet­ry appears in the cur­rent issue of Slow Trains Lit­er­ary Mag.
A print col­lec­tion ("Grand Mal") is com­ing from Rebel Satori Press.