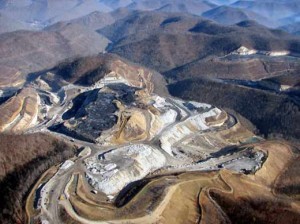 Only a lit­tle overdue…
By Christo­pher J. Jack­son Reg­is­ter-Her­ald Reporter

BECKLEY — The U.S. Envi­ron­men­tal Pro­tec­tion Agency has tight­ened lim­i­ta­tions on moun­tain­top removal with new actions to "clar­i­fy" and strength­en guide­lines for Appalachi­an min­ing permits.

EPA Admin­is­tra­tor Lisa Jack­son said Thurs­day the guide­lines were long over­due and were being imple­ment­ed to pro­tect Appalachi­an com­mu­ni­ties from dam­ag­ing impacts from moun­tain­top removal coal mining.

"This is not about end­ing coal min­ing. This is about end­ing coal min­ing pol­lu­tion," she said dur­ing a con­fer­ence call. "Coal com­mu­ni­ties should not have to sac­ri­fice their envi­ron­ment or their health or their eco­nom­ic future to moun­tain­top mining."

The guide­lines clar­i­fy exist­ing require­ments of Sec­tions 402 and 404 of Clean Water Act per­mit­ting pro­grams that apply to pol­lu­tion from sur­face min­ing in order to pro­tect water­ways. It details how the agency uses the law to ensure that future min­ing will not cause harm to the envi­ron­ment, water qual­i­ty and human health.

The EPA cit­ed a grow­ing body of sci­en­tif­ic stud­ies, includ­ing those con­duct­ed by for­mer agency sci­en­tists, that water­ways are dam­aged by runoff from moun­tain­top min­ing. Two sci­en­tif­ic reports are being pub­lished for pub­lic com­ment and sub­mit­ted for peer review to the EPA Sci­ence Advi­so­ry Board. Read more.