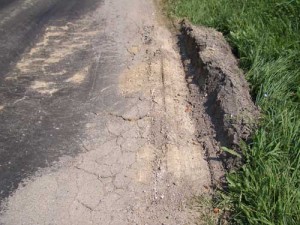 (from cit​i​zensvoice​.com)
BY ROBERT SWIFT (HARRISBURG BUREAU CHIEF)
Pub­lished: May 26, 2010
HARRISBURG — Increased crime and dam­aged roads are two neg­a­tive impacts of the Mar­cel­lus Shale nat­ur­al gas drilling boom, Ren­dell admin­is­tra­tion offi­cials said as the push for a state sev­er­ance tax heats up.
State Police Com­mis­sion­er Frank Pawlows­ki said state troop­ers are report­ing more arrests and inci­dents involv­ing drug use, assaults and ille­gal weapons in north­ern tier munic­i­pal­i­ties due to an influx of out­side gas indus­try workers.
Hun­dreds of miles of sec­ondary roads have been dam­aged or made impass­able because of heavy truck traf­fic tied to drilling activ­i­ties, Pen­nDOT Sec­re­tary Allen Biehler said.
The two offi­cials issued a joint state­ment Mon­day as state law­mak­ers debate levy­ing a sev­er­ance tax on nat­ur­al gas pro­duc­tion. The House Appro­pri­a­tions Com­mit­tee approved a rev­enue bill Mon­day that includes an 8 per­cent sev­er­ance tax. Rev­enues would be split on an 80⁄20 per­cent basis between the state Gen­er­al Fund and local munic­i­pal­i­ties. More.