My kid trans­ferred through every school on our side of the moun­tain. Only six, but a fight­er. I didn't teach him that. The prin­ci­pals ask, – "well, Mr. Doppler, where might Fred have learned to lash out?" Nature, I say. Too much vio­lence on this moun­tain – elec­tri­cal storms and rock­slides and pre­da­tion, balled insects wrig­gling in spider's silk.
Car­o­line heard of a dif­fer­ent school in Bon­ham, some char­i­ty deal. My kid didn't need anyone's char­i­ty. But the author­i­ties said they would arrest Fred next time he fisticuffed on school prop­er­ty. They would put him in juve­nile. They'd rel­ish that record-break­ing youngest arrest in all of Tennessee.
Car­o­line pried open the teaket­tle and palmed the wad of bills. It'd shrunk­en. We vowed not to argue. Bad exam­ple for Fred. So we packed all we had into the truck and lum­bered up the hump on the one road that crossed that moun­tain, a steep and pit­ted trace no longer main­tained by the state. We ripped through bram­ble and green switch­es, shed­ding use­less heir­looms. From the dizzy­ing ridge­line, grav­i­ty showed us to Bonham.
Still whiplashed, we set­tled into life on the wrong side. Our neigh­bor walked a big cat – maybe a pan­ther – on a leash. It was a dog's leash and we saw it strain into the cougar or panther's puls­ing neck. This guy ran a small zoo in the woods behind his prop­er­ty and he looked mean, and we knew his kind of oper­a­tion: cramped wire cages, no con­cern for the nat­ur­al habi­tats. But he was friend­ly, too, mean-look­ing and friend­ly. Fred want­ed to pet the pan­ther so we waved and the zookeep­er waved back, hand trail­ing smoke into the blue, and Fred put his hand out too, trust­ing both stranger and beast.
One morn­ing Fred came home ear­ly from school, a note pinned to his shirt so he wouldn't lose it. We knew this. The note would list what it didn't mean when your kid got infest­ed with lice. It didn't mean: a) your kid was (nec­es­sar­i­ly) dirty, b) you were (nec­es­sar­i­ly) bad par­ents. The note soothed: all who live around the moun­tain, it said — rich or poor, own­er or labor­er – could suf­fer the pecu­liar bio­geog­ra­phy of the region, its sum­mers per­fect for inva­sive forms of life.
I had ticks in my bed that sum­mer, and ivies creep­ing through the slits fer­al cats clawed in the screen. The note on Fred's shirt also request­ed a meet­ing at the school. This was unusu­al, but the Bon­ham way I guess. In the mean­time, we dis­tract­ed Fred from the itch­ing. We asked him about school.
"We had to write our life sto­ry," Fred said.
"What life sto­ry?" Car­o­line said, "He can bare­ly write and he's been asleep for near­ly half of it."
"His is a sto­ry of dreams," I said.
"And then we had to write about our her­itage," Fred said, "but I didn't know what to write so I drew the sun."
Car­o­line and I agreed that we should tell Fred the truth about his her­itage. How a strange par­a­site once divid­ed the peo­ples of the moun­tain. How the patri­archs of those days quar­an­tined the sick hosts on one side, kept the healthy half on the oth­er, and des­ig­nat­ed the sum­mit a sort of peace wall where the two camps could dump their trash, each inch­ing the heap toward the down­ward cam­ber of the other's side. There were episodes of cross-moun­tain raid­ing, loot­ing, and intim­i­da­tion, we told Fred, our eyes widen­ing as we made raid­ing and pil­lag­ing ges­tures with our arms. We delight­ed in embell­ish­ing the sto­ry, but I no longer knew how much of it I believed, and I real­ized that I could no longer dis­cern my father's embell­ish­ments from the rudi­ments of the old­er story.
I only knew my embell­ish­ments with any cer­tain­ty. I told Fred that since we were deal­ing with his­to­ry, he need­ed to know that the sto­ry might split and braid into sto­ries. Inevitably some­one would lie to him. This was when Car­o­line rolled her eyes, but I was get­ting excit­ed now. There were con­spir­a­cy the­o­ries, I told Fred, which were accept­ed in cer­tain cir­cles on both sides of the moun­tain. One of them involved my employ­er, I told Fred, and I'd have to relate it in a whis­per for fear of spies. I asked if this excit­ed Fred. This excit­ed Fred terribly.
The the­o­ry spec­u­lat­ed that the bal­loon fac­to­ry in the val­ley kept its own his­to­ri­an on staff, and that this bored man invent­ed the par­a­site – going so far as to forge research abstracts, micro­bi­o­log­i­cal data, and an illus­tra­tion of the mag­ni­fied worm.
Speak­ing in my nor­mal voice again, I told Fred that these the­o­ries were large­ly dis­cred­it­ed, because the bal­loon fac­to­ry has done so much for the com­mu­ni­ties on both sides of the mountain.
I'd told Fred some­one would lie to him, and now it was true. It's hell, toil­ing to man­u­fac­ture the sym­bols of some­one else's par­ty. For a pit­tance, too.
"Which side were we – did we have worms?" Fred asked.
"No one can agree about that, son, and our ances­tors left no writ­ten his­to­ry. They were too busy sur­viv­ing." I pumped my fist to empha­size this point. "Sur­viv­ing," I repeat­ed, "that's our her­itage, Fred."
I met with the prin­ci­pal. He was some kind of monk. "You don't want us to kill the lice?" I said.
"This is a Jain school," the monk said. "We believe that every liv­ing being has a soul. We also think it would be a good les­son in patience if you used our alter­na­tive method. For your son, I mean. Com­pas­sion­ate removal is painstak­ing but ulti­mate­ly quite free­ing, Mr. Doppler."
"Thank you," I said, "for that."
I couldn't com­plain much. The Jain­ism seemed to calm Fred. Night, and the frogs in the gut­ters throbbed close against the rent house, their song pinch­ing deep into the met­al. None of the beasts of the wood could tell we'd moved in yet. .
Fred asked why he had lice. I had to think of some­thing. "It is the waters we swim," I said, "the moun­tain whose shad­ow we live in. Mt. Par­a­site, after all."
We still weren't con­nect­ed to the grid, so we lit the storm can­dles and cracked the win­dows. Car­o­line sat Fred in her lap and start­ing draw­ing the dead dog's flea comb through his hair, drown­ing each louse in a glass of water with a blot of shim­mer­ing soap in it. Car­o­line was painstak­ing, her tongue peep­ing out in con­cen­tra­tion, her pupils sharp in the dark. "You're not sup­posed to kill the lice," I said. She looked beau­ti­ful killing the lice. She shrugged her bare shoul­ders and the zookeep­er passed before the open win­dow, pre­tend­ing not to spy on our infestation.
The par­a­sitic is espe­cial­ly taboo here – to call some­one worm is the slur of the cen­tu­ry. We all know that soon the bal­loon fac­to­ry will out­source and float across the sea, and we'll be left with noth­ing but this old rock of gneiss. It changes too, but slow­ly. We'll have a lit­tle mon­ey from the gov­ern­ment. We'll have our cool moun­tain mid­sum­mer nights.
We have to live togeth­er and all that jive, even in moun­tain ranges whose his­to­ries are defined by iso­la­tion­ism, retreat– I try to teach my kid that, as is appar­ent­ly required of me. But already he sens­es the sub­tle vocal tim­bre of doubt in every plat­i­tude we hand him.
"I nev­er see any­one go back there – do you think it's real­ly a zoo?" I asked Car­o­line, as she picked the nits from Fred's scalp.
"No," she said.
"Me nei­ther," I said. "Won­der what he's hiding."
As the zookeep­er moved far­ther from the win­dow, we could see him rid­ing his big cat like a horse up the mountainside.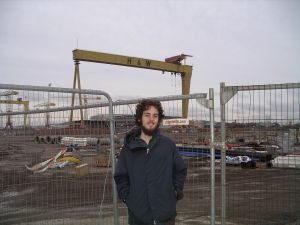 Jack Boettch­er is the author of the chap­book The Deviants (Grey­ing Ghost Press, 2009), and recent work appears or is forth­com­ing in Fence, Gulf Coast, Pleiades, Puer­to del Sol, and oth­er jour­nals. He lives in Austin.