Jasper is school­ing us on the fin­er points of fist­ing. It's only a touch past mid­night and he's already man­aged to lose his camper from going all in on a dras­tic Texas Hold 'Em flop, pray­ing for a flush that nev­er proved. But now he's on to talk­ing about the love he found for this sev­en­teen year old bar­maid after his wife start­ed tak­ing the dick from a Ten­nessean named Kilo­watt, a guy who got his sil­ly ass nick­name because he's an elec­tri­cian, and maybe too, I'm begin­ning to won­der, because he can deliv­er a wor­thy prod. Though this isn't what's bug­ging Jasper, because Jasper's a plain fool for for­giv­ing his own cuck­old­ing when it comes square up against the mag­ic he says he's found with this girl Janelle and her slen­der greased dig­its. Fin­gers of sal­va­tion, is what he calls them, smil­ing and sweat­ing a little.
This is not a con­ver­sa­tion pos­si­ble with­out dope and shame. Jasper knows this, and he's helped him­self to Jackson's brick of hash. By damn God, if I could catch up with him, but Jackson's only a drink­ing bud­dy and not much else, so I'm not about to press my luck with what I've still got wagered on the table. But Jasper's lost in the music of his own speech, and soon enough, all of us are grow­ing bored and mean.
"You mean you make that lit­tle olé girl ram her Chris­t­ian hand up your butt?" This com­ing from Skin­tone, his yel­low neck bulging from his shirt col­lar like case meat. "That's God­damned God­less. I ought to put the law on you, Jasper."
But Jasper will not let the romance be sul­lied. His eyes leak man­ly tears. He pleads. Jack­son, unim­pressed, heads over to the porch fridge and yanks out a pint of chilled vod­ka and pours out four glass­es, set­ting them down at our open hands.
Now, to appre­ci­ate this, you've got to lay eyes on Jasper. He's not a small man, but a soft moun­tain of tone­less mat­ter, skin moist as a worm. And this girl, this Janelle Hicks, is her­self no teenage apoc­a­lypse. Skin­ny through the hips with a bad limp. When she comes at you quick, it's spot on for a loosed asy­lum patient. But if we are to hear his ver­sion of the sto­ry right, this is our Lancelot and Guin­e­vere. Our tri­umph and destiny.
"No, no," Jasper hollers through his cry­ing. "These are the truest plights of a good man's heart. No law…no law of nature is bro­ken here."
It is hot, humid for night­time in the moun­tains, and the mos­qui­toes are thump­ing us some­thing wicked. Jasper was sup­posed to buy cit­ronel­la sticks, but he says the store was out. It's pos­si­ble, I guess. At least he didn't pass up the bag of lemons Skin­tone demand­ed, the sucked rinds now sloughed into the ash­tray along­side the bashed teeth of unfil­tered Camels. That's where Skin­tone gets his col­or from, suck­ing on those gro­cery store lemons night and day, drawn to them like sin.
Skin­tone flings his cards on the table, curs­es us all blind and kiss­es his vod­ka. I've nev­er once seen this reli­gious fool so sober and each lick of drink seems only push­es him clos­er to clar­i­ty. We all spend a while sit­ting and lis­ten­ing for each other's human sounds.
"You know what I have a mind to do," Jack­son says, not real­ly talk­ing to any of us so as the face of his own whim. "But to go out and run us a fox."
Skin­tone snaps his eyes up from his mood. "Shit, how long's it been since you worked them dogs? Four, five months?"
Jack­son tips back in his chair, his hands joined over the back strap of his base­ball cap, a pose that might just be enough to hold his brains in."That doesn't have noth­ing to do with it."
I know we have no choice but to fol­low once Jack­son begins to talk this way. He is our head, our heart, and we amble after his sig­nals like numbed legs. I gath­er my car keys and bill­fold in my pock­et while Jack­son steps around to the back­yard where the dogs are already alive and yam­mer­ing, sens­ing some­thing in the night air.
"I need to ride with you," Jasper says to me.
"What do you mean, you need to?" Skin­tone spits. He's rag­ing with a deep, sin­is­ter calm.
"That's not your con­cern," Jasper whis­pers back at him, tak­ing me by the elbow as we walk out toward the edge of the brick hard yard. I can smell dog shit out here somewhere.
I know where Jack­son will want to hunt. Spell­man Holler: about fif­teen min­utes out­side of town, not far from where the old derelict Sanc­tion Coun­ty rai­l­yard has become a sim­ple steel ache in a his­to­ry only slight­ly brighter than this one. It is the place we all go when we go down to for­get our­selves and what we lost some place just beyond faith­ful mem­o­ry. We go to get drunk and hate one anoth­er for being caught alive togeth­er in this world and con­vince our­selves it is all because we love each oth­er like brothers.
There is a steady water­shed out there in the holler. Runoff cours­es the plumbed ver­ti­cal shale, and after a good rain you can hear the sluice com­ing down like breath­ing from the moun­tains' dark­ness. It is a kind of joy­ful death.
The car engine shud­ders and the valves rat­tle before the idle even­tu­al­ly roars and stead­ies. We lurch for­ward as I spin a wide cir­cle, the CV joints pop­ping like an old man's knees. The night is washed with the vod­ka and my eyes search the road and the melt­ed sweep of the tree­line gust­ing past. I have my own bot­tle beneath the seat, and I bub­ble it twice or more as I dri­ve on. I hear Jasper talk­ing, but the words are queered. Some­thing has fall­en from them, defused by the fact of his steady whim­per­ing. I have nev­er heard a grown man cry for so long at a stretch. Of all that I hear, the only sounds that I reg­is­ter are her name and that word that is sup­posed to mean everything.
"Love is…is love," he moans.
I know this. Every fool does. But true enough, I can see the genius of Jasper in the moment, the rea­son he is locked in fat flesh and wom­an­ish bones. He has con­jured some­thing dear from him­self and I find him so sud­den­ly beau­ti­ful it is hard not to kiss him full on the mouth. The urge is so strong I swerve wide in the bend, kick­ing grav­el high off the shoul­der, ding­ing the bul­let rid­dled octa­gon of a stop sign. The back end of the car switch­es for a moment and then runs straight and true once the tires gain trac­tion. We ride. The vod­ka drains.
Some impulse guides me to the place where I know we will find Jasper's love, stooped over beneath Christ­mas lights strung from dent­ed wain­scot­ing, hus­tling neat booze to the late night drunks on a round plas­tic tray. Her uncle's bar, where she works for nick­els and cat­calls. To this gloomy keep, we ride. Oh, Janelle, the lover rush­es to you, my sweet!
I may be drunk. I may be. I nose into the grav­el lot and meet Jasper's amazed eyes.
"Take her, love her," I say. "But hur­ry up."
Jasper falls out of the car door and cuts his tem­ple on the steel edge, rib­bon­ing his skull like a present, but he does not fal­ter. He does not tar­ry. He careers ahead. Though I stay in the car, my love is with him, car­ried on his sal­low sweat­ing shoul­ders. In my mind I can see the sedat­ed faces turned towards him, the gap­ing holes of their voice­less out­rage. I can see his wan, female prize, wear­ing a cock­tail apron and blush­ing coy­ly beneath her acne, eager to be whisked away to syl­van boughs and a gen­tle, lov­ing rape.
I am dri­ving again, for­get­ting them, rolling slow­ly out when Jasper beats upon the trunk of the car. I remem­ber to stop, let­ting him and sweet ugly Janelle fling them­selves into the back seat, their feet caught and dan­gling for a moment before I lurch for­ward and the door swats shut. They make sounds with each other's poor bod­ies as I dri­ve on toward the holler, the proof of their love deliv­ered in a sharp chem­i­cal truth that begins to tell in my nostrils.
When we meet the holler, Jasper and Janelle have right­ed them­selves. I watch them in the rear view mir­ror as they match but­tons and calm their dis­placed hairs. The car is humid inside.
Skin­tone and Jack­son are already here, get­ting the dogs out of their ken­nels. When he sees us, Skin­tone comes for­ward with a lemon peel smile, but his words are not friendly.
"What in the hell, Jasper. You bring­ing jail­bait out here, now?"
"Stop your bitch­ing," Jack­son says. "Let's get out in the woods."
So we do, mov­ing down towards the tree­line with the dogs thump­ing for­ward, eager for scent. We will not fol­low. That is not the nature of the hunt. Instead, we will build up a fire and put out sweat­ing bod­ies next to it, heat­ing our­selves to the point of pain because that is what we have always done. Because that is what the fox hunt is. That and lis­ten­ing to the long bays of the dogs as they crash through the dis­tant dark. We will do that and car­ry our minds through the night after them as they chase the vic­tim to ground. There will be no death, because death would end the tri­al too soon. Death would inter­fere with the love of tor­ment, in both the dogs and the men, and that is some­thing no one wants to happen.
Skin­tone snaps sticks and erects a small tem­ple of kin­dling for burn­ing. Jack­son touch­es a spurt of flame from his cig­a­rette lighter and we watch as the flame crawls up and begins to live. Soon, big­ger dead­fall is added, the ugly bro­ken gifts of stormwreck. In time, the dogs cut a scent and start bel­low­ing. Soon, I am lost to the tan­go of the build­ing fire. The voic­es cross in the pale pulse where we all sit, but I do not say a word.
The dogs will run the length of the holler. They will run it and be deceived when the fox cuts a clever retreat, but they will run it again, ven­tur­ing every­thing to bring the prey to bay. I have always known this because I have been alive forever.
I will not do any­thing now. I will not stand up to defend the weak when they are assailed. I will remain here, cut to the bone by the near­ness of the fire when Skin­tone reels back and slams the vod­ka bot­tle against a stone. He will charge at Jasper, scream­ing the wrath of Christ to come, the wages of all sins of the flesh descend­ing. He will spit his lemon peel from his jaun­diced face, the pure sour tri­umph as the blood ris­es. Jack­son will look away and lis­ten for the dogs and Janelle will remain small and present, a mere fig­urine in rags. But I will not do any­thing now, though I am a defend­er of love, of the cock and the cunt. I am a defend­er of all the machin­ery of hap­pi­ness. But that will do lit­tle to calm Skintone's rag­ing cer­tain­ty. He is an admirable mon­ster to me. None of us can do any­thing to stop him as he comes at Jasper, strik­ing sav­age­ly at him with the com­plete true plea­sure of an emp­tied and right­eous heart.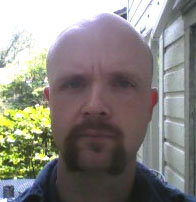 Charles Dodd White was born in Atlanta, Geor­gia in 1976. He cur­rent­ly lives in Asheville, North Car­oli­na where he teach­es writ­ing and Lit­er­a­ture at South Col­lege. He has been a Marine, a fly­fish­ing guide and a news­pa­per jour­nal­ist. His fic­tion has appeared or is forth­com­ing in The Col­lag­ist, Night Train, North Car­oli­na Lit­er­ary Review, PANK, Word Riot and sev­er­al oth­ers. His nov­el Lambs of Men, a sto­ry of a Marine Corps vet­er­an of World War I in West­ern North Car­oli­na, will be pub­lished by Casper­ian Books in Fall 2010. He is cur­rent­ly at work on anoth­er nov­el and a col­lec­tion of short stories.