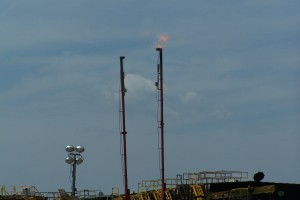 Speaks for itself, no?
Report: Firms com­mit 1,500 infrac­tions in Pa. in 30 months

STEVE MOCARSKY smocarsky@​timesleader.​com

Mar­cel­lus Shale gas drilling com­pa­nies have racked up near­ly 1,500 envi­ron­men­tal vio­la­tions in Penn­syl­va­nia in the last two and a half years, accord­ing to a report released on Monday.

The Penn­syl­va­nia Land Trust Asso­ci­a­tion reviewed envi­ron­men­tal vio­la­tions accrued by nat­ur­al gas drillers work­ing in the state between Jan­u­ary 2008 and June 25. The records were obtained through a Right to Know Law request to the state Depart­ment of Envi­ron­men­tal Protection.

DEP records showed a total of 1,435 vio­la­tions of state oil and gas laws asso­ci­at­ed with drilling or oth­er earth dis­tur­bance activ­i­ties relat­ed to nat­ur­al gas extrac­tion from the Mar­cel­lus Shale, the report said. More.