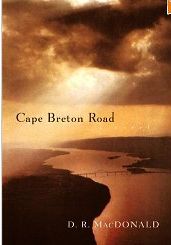 I'm tak­ing a break from a book review to write about anoth­er book. Fun­ny, eh?
D.R Mac­Don­ald is a writer I don't hear much about, and that's too bad. His nov­el Cape Bre­ton Road is one I re-read fre­quent­ly, for the lush descrip­tions and lean prose, yes, but more for the descrip­tions of Cape Bre­ton and the char­ac­ters who inhab­it the lone­ly land­scape. Like many of my favorite books, it reminds me in ways of where I grew up in Penn­syl­va­nia, the way the woods can look at night as you walk them and lis­ten to the mag­i­cal nois­es you can hear when every­thing else is quiet.
Plot-wise, there's noth­ing ter­ri­bly com­plex going on. 19-year-old Innis is a native of Nova Sco­tia liv­ing in the Unit­ed States who gets deport­ed for a rash of car thefts he com­mits in Boston, where he and his moth­er live. In the com­pa­ny of INS agents, he's escort­ed back to Cape Bre­ton to live with his bach­e­lor uncle. Need­less to say, the two don't get along, and Innis's only hope of get­ting out is the mon­ey he'll get from the pot he's plant­ed far back in the woods on this uncle's farm. The meat of the sto­ry begins when his uncle's girl­friend Claire moves in and both men begin to com­pete for her affec­tions. The real strength of this book is in the prose style and the eccen­tric char­ac­ters Innis runs into, not least of whom is his uncle Starr.
There are also high­land Scots and whisky priests, sea cap­tains and tv repair­men, all revealed via prose that nev­er seems hur­ried or less than com­plex. If the end­ing is less than sat­is­fy­ing for some read­ers, that's okay; it seems true to what I know of 19-year-old men.
D.R. MacDonald's also writ­ten a nifty col­lec­tion of sto­ries called Eye­stone, and anoth­er nov­el called Lauch­lin of the Bad Heart, which I have not read, but trust Mac­Don­ald well enough to get it.
You can read some of it via Google Books and look at reviews from the online book­sellers. Trust me and dis­re­gard the peo­ple who gave it ones or twos.