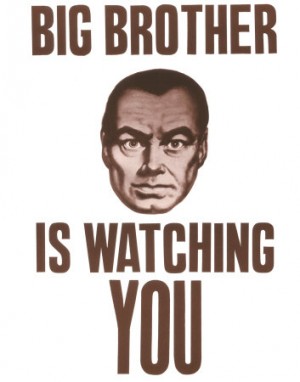 Anti-frack, watch your back, somebody's watch­ing you…
Penn­syl­va­nia Home­land Secu­ri­ty has been spy­ing on anti-drilling activists, tak­ing down names of atten­dees at meet­ings and even a screen­ing of a doc­u­men­tary on drilling; these dossiers on peace­ful pro­test­ers are then sup­plied to Mar­cel­lus Shale, a drilling com­pa­ny. The State Home­land Secu­ri­ty Direc­tor James Pow­ers jus­ti­fies the snoop­ing on meet­ings and infor­ma­tion ses­sions because activists' "pres­ence may spark some­thing else. [I don't want to see pub­lic meet­ings] esca­late to phys­i­cal crim­i­nal acts."
Some of the facts are off in this arti­cle, as you might expect. There's no drilling com­pa­ny per se named Mar­cel­lus Shale, though there are a more than cou­ple of pro-drilling groups that use the name in their title. It's also, as read­ers will know, the name of the geo­log­i­cal for­ma­tion pro­vid­ing the gas.
And in oth­er news–cough–the governor's vewy vewy upset: Penn­syl­va­nia Protest Reports: Gov­er­nor 'Appalled,' Shuts Down Practice