POEM ON MY 35th BIRTHDAY
When I was a kid
we lived in the country
and I would take long walks
on sum­mer nights
to a small pond
by an old, unused barn.
I would take all my clothes off
and jump into the black ink
and stay out there
for hours.
I felt strange
com­ing back
to my mother's house
tele­vi­sion glowing
in the oth­er room
as if I didn't
belong
as if I had just climbed
from pri­mor­dial sludge
with a secret
that I would spend my life
try­ing to speak.
THE WHALE
He's 55 years of smug blubber,
a bored heir of a lucky fortune
who can bare­ly walk on the ves­tiges of his legs
float­ing in the lob­by of the fan­cy hotel
like a giant aquarium.
He's wait­ing for anoth­er cabby,
a town-car or some­thing, but I shark him
and dri­ve him to the casino
where he blows
thir­ty grand a month.
It's hard to under­stand fear or humility
when you know you can eat
every­thing in your path.
His mate moon­cows beside him
like a som­no­lent mir­ror image
on this sun­ny afternoon,
rays fil­ter­ing down through the thick blue sky
into the win­dows of my cab
where the dust rises
like plankton.
His voice is a screechy violin
and I'm just anoth­er suckerfish
in his arm pit.
It's like I'm in an under­sea vessel
that's gone too deep:
my ears plug up;
the crack in my windshield
jumps one inch
at a time.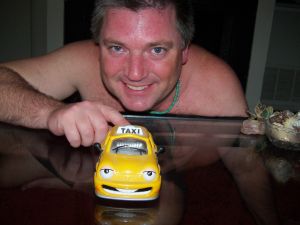 Math­er Schnei­der is a 40 year old cab dri­ver from Tuc­son, Ari­zona. He is hap­pi­ly mar­ried to a sexy Mex­i­can woman. His poet­ry and prose have appeared in the small press since 1993. He has one full length book out by Inte­ri­or Noise Press called Drought Resis­tant Strain and anoth­er full length book com­ing in the spring of 2011 from New York Quar­ter­ly Press.