This is from Decem­ber 2008, and I didn't find it until just now. It's a good one, and it's going to be a bad day for me when he even­tu­al­ly kicks down the door to heav­en. It seems like he's wind­ing it up for one last good book. He's one of two or three writ­ers that have made me, for bet­ter or worse.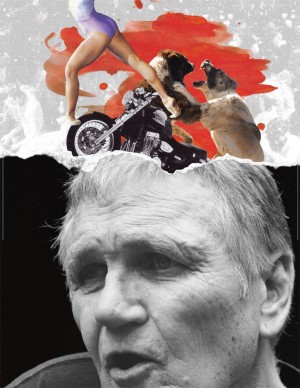 Har­ry Crews is one of the most orig­i­nal and impor­tant liv­ing Amer­i­can nov­el­ists there is. He was born the son of share­crop­pers in Geor­gia in 1935. He served as a marine dur­ing the Kore­an War and since then he's had just about every job a man might have to take in his lifetime—from work­ing in a cig­ar fac­to­ry all the way up (or maybe down) to teach­ing cre­ative writing.
His books are bit­ter­ly fun­ny and expert­ly observed shots of fic­tion tak­en straight out of his own life. He can out­fight, out­fuck, out­write, and out­think any­one from the entire gen­er­a­tion of lit­tle boys that came after him, and he's still kick­ing today. Har­ry is down there right now in his secret hide­out in Flori­da as you read this, and he's work­ing away on a new nov­el. He says it might be his last because he's sick. But we don't know. There might nev­er have been a human being who com­bines smart and tough as per­fect­ly as Har­ry Crews does, and we wouldn't be sur­prised if he's still crank­ing out his amaz­ing books when we're all old and gray too.
Vice: Hey Har­ry. Is this still a good time to talk?
Har­ry Crews: We're sup­posed to do this now?
I think we said that I would just give you a try on the phone today and see what happened.
Mor­phine will fuck up what­ev­er mem­o­ry you may have left. I take it every four hours around the god­damned clock. So I know we said Fri­day after­noon but I thought we said one or two and, hell, it's after three now. It doesn't mat­ter except, I don't know if I told you or not, but I'm try­ing to fin­ish one last nov­el. If God will give me this one, I'll quit. But I didn't leave it alone. I start­ed work­ing very ear­ly today and—listen, are you sure this is worth your fuck­ing time?
Def­i­nite­ly. I just don't want to climb up your ass.
You aren't climb­ing up my ass, man. If you were both­er­ing me I'd tell you. Last time we talked you said some­thing like, "If I were where you are, last thing in the world I'd be wor­ry­ing about was whether or not to give a fuck­ing interview."
Read the rest at Vice Mag­a­zine.