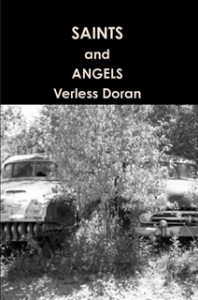 Ver­less Doran lives and writes in the hills of East Ten­nessee. His works have appeared in The Smok­ing Poet, Hero­in Love Songs, Lit Up Mag­a­zine, The Suisun Val­ley Review, Prick of the Spin­dle Press, Dogz­plot Lit­er­ary Jour­nal, and Riverbab­ble Jour­nal. His first col­lec­tion of short sto­ries, Saints and Angels, is avail­able now online and in select bookstores.
This first ques­tion is the easy one: why self-pub­lish?
I know the term "self pub­lish" is a bit of a dirty phrase for some writ­ers, but it has nev­er seemed as such to me. To me it is no dif­fer­ent from a painter buy­ing his paints and can­vas­es and then sell­ing them on a street cor­ner, which most artists and writ­ers regard with a kind of Bohemi­an rev­er­ence. "Wow, look at him all poor and hun­gry," we say, "sell­ing his art on the street for scraps of bread. He must be a real artist." A writer friend of mine, whom I shall leave unnamed, who has been "tra­di­tion­al­ly pub­lished" said to me once, "There is noth­ing more pathet­ic than a writer sell­ing books out of the trunk of his car." I believe there is noth­ing more beau­ti­ful. Espe­cial­ly after said writer has put in a full day at work at his reg­u­lar job. I love to see any­one believe in what they do that much. And that's all pub­lish­ing boils down to, get­ting some­one to believe in what you do. And at the end of the day it might be only you that believes in it. Van Gogh was for­tu­nate to have had one oth­er per­son to believe in him, and that was his broth­er. Stephen Crane, James Joyce, Mark Twain and many oth­er great writ­ers chose to self-pub­lish because no one else believed in what they were doing. But like them I did not come to the con­clu­sion to self-pub­lish hasti­ly. I went the "tra­di­tion­al" route for 15 years, lick­ing stamps, stuff­ing envelopes, address­ing return envelopes, run­ning down to the post office, col­lect­ing rejec­tion let­ters. I have been pub­lished here and there, but I have nev­er earned a liv­ing at writ­ing, and I do not expect to earn a liv­ing by self-pub­lish­ing. The impor­tant thing to me was to get the work out there. To me, the work was what was impor­tant. I think too many writ­ers are con­sumed by try­ing to be the next Stephen King or John Grisham and not con­cerned about get­ting the work into the hands of read­ers who can appre­ci­ate it.
You and I share an affin­i­ty for the work of the late Lar­ry Brown. What do you find in his work that you can't get any­where else?
There is a rough, edgy truth to his words, that I have sel­dom found in oth­er writ­ing. And that truth reveals itself to all man­ner of read­ers, not just those from the south. Peo­ple all over the world know what the truth is, and it doesn't mat­ter into what ver­nac­u­lar you place it. Per­son­al­ly, when I dis­cov­ered Brown it was a com­plete rev­e­la­tion to me. I had long tried to be the next Faulkn­er, Dick­ey, or Con­roy, fill­ing up page after page of beau­ti­ful pas­toral set­tings and elab­o­rate heart-wrench­ing emo­tions and peo­ple would read my work and say, "There is a south­ern writer." The first book I read by Brown was "Joe." And I remem­ber think­ing, "Wow, peo­ple real­ly write like this? Peo­ple real­ly just say what they want to say, the way it needs to be said?" I was amazed, and renewed spir­i­tu­al­ly, because I knew I could write like that. Not nec­es­sar­i­ly in his style, but from the same place he wrote from. He also taught me that being where you are from is not a thing to be ashamed of, in the real world or the "aca­d­e­m­ic" one.
In the doc­u­men­tary Rough South of Lar­ry Brown, both Brown and his wife admit their mar­riage and his fam­i­ly life suf­fered because of his writ­ing. It's unclear if they ever made peace with that before he died. Could you com­ment on this, as I know you're a fam­i­ly man as well? How do you keep the bal­ance between writ­ing and fam­i­ly, or what­ev­er takes up most of your time in oppo­si­tion to writing?
I think in the doc­u­men­tary there nev­er was a real peace between Brown and his wife, per­haps a cease-fire. A 38th par­al­lel drawn in the sand. Both sides came to accept what could and could not be changed. I under­stand this com­plete­ly, as any­one does who has a par­tic­u­lar pas­sion and a fam­i­ly, espe­cial­ly when said pas­sion is not putting food on the table. I think every­one comes (or should come) to a point in their lives when they learn to pri­or­i­tize. I decid­ed to have a fam­i­ly, and that for me had to take pre­em­i­nence. Part of hav­ing a fam­i­ly entails pro­vid­ing for that fam­i­ly mon­e­tar­i­ly, so my job has to come sec­ond. I write in what time is left over. I have stayed up many nights, till dawn writ­ing, and then gone on to work that morn­ing, because it was the only time I could find to do it in. I have nev­er been a writer who has had to be "moved" to write. Though I have felt inspi­ra­tion to write, I don't have to have inspi­ra­tion, per se, to write. I have been blessed with a nat­ur­al ten­den­cy to write, not a nat­ur­al tal­ent, but a ten­den­cy. It has just always seemed like a very easy thing to do. So I can arrange my writ­ing sched­ule around all the oth­er activ­i­ties going on in my life.
"A Day With­out Rain" posits a day in which noth­ing seems to be going right for its nar­ra­tor, who has a num­ber of issues work­ing his brain and is not get­ting very far with them. Yet the sto­ry, which ends in love­mak­ing, out­lines just how des­per­ate his/their sit­u­a­tion is: they have each oth­er, and they have a momen­tary break when they can for­get real­i­ty, and that's it. You can see anoth­er day rolling along soon in which noth­ing much will change. I may be read­ing too much into this or not enough, but the sto­ry kicked me in the teeth. How do you see the sto­ry? Uplift­ing or depressing?
That is one of my favorite sto­ries, and it made my heart glad to write it. I believe it is a very uplift­ing sto­ry. I actu­al­ly wrote most of it while on the phone with Sharon. We were engaged to be mar­ried, but for the time being she was all the way in New York and I was in Ten­nessee, so most of our courtship was done over the phone. I was try­ing to write her a sto­ry of what I imag­ined our mar­ried life to be like, and this sto­ry is what came of it. In this world you only have what you can hold in your hands, and at the end of the day if it ain't the ones you love, you ain't got noth­ing. Each new day is a mys­tery filled with pit­falls and joys, and you just have to keep hold­ing on to each oth­er through it all.
In the sto­ry "Lyrics," two pris­on­ers take their plea­sure from one another—hard to call it just fucking—in a bit of hard­scrab­ble romance using song lyrics to com­plete their indi­vid­ual fan­tasies. It's unex­pect­ed­ly ten­der and care­ful­ly writ­ten, but again seems hope­ful for the char­ac­ters, where­as the read­er knows things aren't going to change. It's a neat bit of sto­ry, and I won­dered how much you worked on the tone, on how to keep it real­is­tic with­out being prurient.
Anoth­er of my favorites. I've always felt a lit­tle uncom­fort­able writ­ing about things of a sex­u­al nature, in explic­it terms and such, pos­si­bly because I don't speak that way, and right or wrong, I always write how I speak. But for this sto­ry in par­tic­u­lar, I didn't want any­one to get caught up in the act itself, but in the fact that these two men, in this cir­cum­stance, were doing what­ev­er they had to do to feel the human touch that they need­ed. The sto­ry itself came from a flash fic­tion exer­cise inspired by our mutu­al friend Heather Fowler. We were to write a sto­ry under the theme, and I don't remem­ber if it was this exact­ly, but it was some­thing like "Lyrics of Love's Fad­ed Reminder." I just got to think­ing about how music con­jures up so many mem­o­ries for us, what if I applied that to a sit­u­a­tion where mem­o­ry is everything.
How does your occu­pa­tion affect what you write?
I come up with so many sto­ries on the job that if I had the mon­ey I would hire a stenog­ra­ph­er to take down every­thing so I don't for­get it. Con­struc­tion work is such a human occu­pa­tion, it's all sweat and sto­ries and jokes. I'll take a piece of a sto­ry I heard here, or a thing that I've seen there and even­tu­al­ly make a com­plete sto­ry of it. It can also be a very monot­o­nous job, doing the same thing over and over again to where you can let your mind drift, though you have to be care­ful not to nail your­self to a roof or cut off a limb while you're "pre-writ­ing."
I know you also write poet­ry. Who are the poets you look to for inspi­ra­tion, both big press and small press?
I sup­pose my favorite poet would be Bukows­ki. I like his stripped down, unortho­dox style. I am real­ly into Clay Matthews now, a local writer from Greeneville, TN. And of course my wife's poet­ry. And I'm not just say­ing that so I'll get fried chick­en instead of beans tonight, she real­ly is one of my favorites. I have sel­dom met a truer writer of words. It's one of the things that made me fall in love with her.
Do you feel it's a gift or hard­ship, being a south­ern writer and try­ing to pub­lish large­ly rur­al material?
It can be both, I think. I think some peo­ple not from the south might look at a book from a south­ern writer and think it can't apply to them. But I think in gen­er­al, if it's good and if it's true, it will find a way. The truth always finds a way.
What are your plans for your pub­lish­ing future? Any new projects on the horizon?
I have anoth­er col­lec­tion of short sto­ries in the works. And a col­lec­tion of flash fic­tion. A book of poems, and two nov­els I am cur­rent­ly work­ing on.
Can you rec­om­mend some music for me and the madding crowd? I'm tired of every­thing I'm lis­ten­ing to these days.
I know how you feel. Music is almost as much a part of my life as read­ing and writ­ing. And once I get into an artist, I tend to dri­ve it right into the ground till I'm sick of it. Right now I'm lis­ten­ing to a lot of Choco­late Genius. He's kind of a black Tom Waits.