My dead and buried
speak from the memo­r­i­al cards
inside my white Bible.
They com­mand through their
ghost teeth,
"Again."
Grace! There is no again.
The leaves turn red and turn gold.
I go old,
writ­ing softly,
pulling down inky words like
snuff spit into great-grandma's tin can.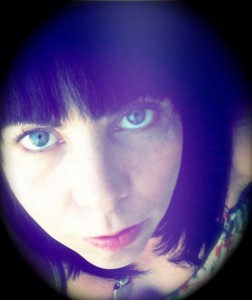 Dena Rash Guz­man is a Vegas born author and edi­tor of www​.unshodquills​.com. She lives on a for­mer lily plan­ta­tion, now an organ­ic pro­duce farm, out­is­de of Port­land, Ore­gon. Her work can be found online and in print, and she cur­rent­ly is at work on her first book of short sto­ries, to be print­ed in 2012 by inde­pen­dent Eng­lish lan­guage pub­lish­er Halit­er­a­ture of Shang­hai, Chi­na. On Oct. 7, 2011, she shares a Port­land, Ore­gon stage for a read­ing at Booty Call: An Evening of Lit­er­ary Smut, with Steve Almond and oth­ers at the Blue Monk on Bel­mont Street.