Aun­tie Lee has all day par­ties and Mama says it's got to be a hun­dred degrees out­side. That's how I know it's sum­mer again. Mama says next sum­mer we'll get air con­di­tion­ing and next sum­mer we'll take a big vaca­tion, cross coun­try, with Aun­tie Lee to Cal­i­for­nia where we'll go on a game show and win red cars. The she huffs and says, "The big 'if' being if your Aun­tie Lee can sober up." I want to believe her, but that's what she said last sum­mer, and this sum­mer we're not going so I don't know. She says it's because our finan­cial flow­ers haven't yet bloomed and then she scratch­es her head and smiles quite uncon­vinc­ing­ly I must say. Tomor­row is the Fourth of July and we're not going to Aun­tie Lee's to see the fire­works. Mama says Aun­tie Lee gets fire­works all year long from her dope. It's fun­ny though, I didn't know Aun­tie Lee had a dope because I nev­er met him and if she lived with some­one else I think I'd know.
Some­times I stay up late and lis­ten to Mama talk on the phone to the friends we got. She says if Lee don't stop shoot­ing up she's gonna die soon, even with all the mon­ey she made from deal­ing because mon­ey can't go into your arms and save you. Mama says all she does is deal and shoot up and deal and shoot up over and over again. I'd like to think I know Aun­tie Lee pret­ty well, but I nev­er knew she liked shoot­ing guns up in the air. When I ask Mama about Aun­tie Lee's shoot­ing up Mama says it's not what I think, and I'm too young to know it. Mama tells her friends that she should know it's a hard thing to stop doing, she says one time a long time ago she couldn't stop either. Mama says it gives you a feel­ing like noth­ing else and that she miss­es it every day. I know lots about my mama, but this shoot­ing up, it makes me won­der. I can't pic­ture her with a gun.
I might go to Aun­tie Lee's while Mama's not look­ing. Mama doesn't like me to be there. I snuck over once before, when Mama was talk­ing about Lee's angel dust friends. I love angels. At Christ­mas, Mama and I cut up angels out of paper and tape them all over the house. When I asked Aun­tie Lee about angel dust, she said it's a dif­fer­ent kind of angel, a bet­ter one. Then she gave me some­thing and made me cross my heart and hope to die before I told Mama. She called it angel dust. Angel dust makes me feel very free, like a bird, with all things bright and beau­ti­ful and rain­bows and uni­corns. Mama says Aun­tie Lee does it to escape real­i­ty, like that Uncle Jack is gone and now she runs around with Hell's Angels. I didn't know that angels can come from hell but I guess it makes sense if you think about it. Hell and Heav­en are both out in the beyond where you don't have leaky faucets or over­alls, you just have what's you on the inside. Mama says it's good to escape from every­thing and we all need to once in a while and that you can't go around judg­ing peo­ple for how they like to escape. You can only wor­ry for them. She also says it's dan­ger­ous and that cops don't like it and they'll lock you up for using it. It seems crazy that the police would not want peo­ple to be hap­py because hap­py peo­ple don't do bad things. I still have a lit­tle angel dust left and Aun­tie Lee says to save it for a time when things get so bad that I want to go away to peace and love. Then all her weird friends with the long hair and the loud leather laugh and laugh about noth­ing. They say they're high but I can see that they're right here near me.
So I wake up ear­ly the next morn­ing and I watch the big boy on the cor­ner sell stuff. Maybe he's sell­ing angel dust, who knows. He once gave me a stick­er and told me that hold­ing the stick­er would take me on a roller coast­er of rain­bows. Actu­al­ly, no. that was the first boy. One night I heard a loud noise like a fire­crack­er and lots of sirens. I nev­er saw that boy again. Then one day there was a new boy, like the old boy, only small­er, with new stuff that Mama said was the same as the old stuff. That was when Lucy and Susan stopped com­ing over to my house because their moms said it wasn't safe here because of deal­ers and crack hous­es. None of the hous­es on my street have cracks in them. Some have boards on the win­dows but no cracks. What crazy mamas Lucy and Susan got.
I walk to my Aunt Lee's house and knock on the door. She has lots of friends over and they're all trip­ping or some­thing. They drink punch that makes them trip but they don't fall on the floor. My mama's punch doesn't make me trip and Aun­tie Lee must not know how to make punch right. She comes up to me and picks me up and swings me around so that my feet fly. Her eyes are all fuzzy and she must have had lots of punch because she can't stand good. She's like a baby learn­ing to walk and I ask her about shoot­ing up because I hear her friends talk­ing about that but the music is loud­er than I think it's ever been and she can't hear me over it.
She puts me down and yells. "What?" And she takes some sug­ar and puts it in her nose. She calls it coke which is stu­pid because Coke is brown and comes in a can. She says I might like it and I am thirsty so I say okay and we go into the oth­er room where there are mir­rors on all the tables and peo­ple sit on the floor. The big Hell's Angels look fun­ny on the floor, like they have so many mus­cles that they can't sit nor­mal Indi­an style or any­thing and Aun­tie Lee tells me to sit down and a guy with a great big mus­tache gets up as soon as I sit down as if I have cooties and tells Aun­tie Lee that she's a sick woman and she says to for­get about him and she gives me a straw but I still don't have a glass of coke but she says the straw goes in my nose. We do this at school some­times. Well, main­ly the boys do it. They stick straws in all the holes on their faces and wave their arms around. Aun­tie Lee says I'm sup­posed to breathe in the sug­ar on the mir­ror into my nose and it will make me feel real­ly good. Maybe if you bake a can of Coke it's just sug­ar and I want to ask her but she's nap­ping so I do like she said and–
Sud­den­ly the room is every­where and I can­not stop laugh­ing and I am the best girl in the world and it is almost too good to be true that I get to be me and then it's gone and the room is black and bad and I am on the ceil­ing look­ing at me on the floor. I look dead. Like I'm play­ing dead in a mur­der mys­tery game. I try to pick myself up but I don't know how and now Aun­tie Lee is awake because one of the Angels kicked her and she's try­ing to wake me up and she's crying.
"Wake up, baby. Wake up."
But I am not wak­ing up even though I'm awake on my insides because I know I am. I can see. Noth­ing looks the same now. It's like watch­ing a screen and some­times I am the movie and some­times I am the audience.
The next thing I see is the grave­yard near my school. The weep­ing wil­lows are all there, swish­ing. My fam­i­ly is there, swish­ing. Every­one is swish, swish, shake. Some of my friends from school are there but not all of them. Mama is giv­ing Aun­tie Lee evil eyes and I don't under­stand why they didn't bring me here. Where am I? Who's watch­ing me? Mama nev­er lets me stay home alone. Then I remem­ber the last time I can remem­ber feel­ing some­thing in my body. It was when the big Angel stood up fast, when he was mad at Aun­tie Lee, and his boot touched my book and he said sor­ry right before he went.
I stay in the sky now and I won­der and I watch and I wish I had some of that spe­cial coke but I know I won't ever have it because I don't have my body any­more which means I don't have my nose. I wal­low. I'm lazy bones and if Mama were here she'd yell at me to go out and build some­thing in the back­yard. Some­times I see angels, the ones with wings, all white and del­i­cate. They don't have angel dust. They don't make me feel uni­corns and rain­bows. They're like the ones you try and make in the snow when school is closed and you're in your snow­suit out­side on your back­side look­ing up. I'd rather have the oth­er kind. I can't help it. The angel dust, or the Angels from Hell who put you on your lap and let you sit on their bike. My baby sis­ter would think I'm crazy. She's just a tod­dler so she still thinks these angels are the best, you know, because they're good and inno­cent and all sky­ward and pure. I won­der who would win in a fight, one of these or one of my angels. It's pret­ty bor­ing up here. I have time to think about this stuff. And I guess if I have to stay here for­ev­er, well I guess if I could go back I would stick to coke you drink and angels you make in the snow. Not that it mat­ters. If I went back now, Mama would be so mad at me for going that it wouldn't be much fun anyway.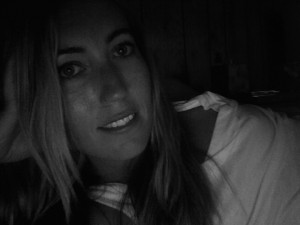 Caro­line Kep­nes has been split­ting her time between her home in Los Ange­les, CA and her par­ents' home on Cape Cod, MA. Her fic­tion has been pub­lished in or is forth­com­ing in The Barcelona Review, Cal­liope, Dogz­plot, Eclec­tica,The Oth­er Room and Word Riot. She spent the past few months writ­ing a young adult nov­el The Dig that's avail­able on all e‑book plat­forms. Her YA pen name is Audrey Hart. In her spare time she enjoys read­ing about meth lab busts, Florid­i­an crim­i­nal activ­i­ty and wild animals.