The wait­ress has a hummingbird
tat­too behind her ear. She sings
Volare, over the clank­ing and clatter.
I sit in a booth next to a window.
I let the sun warm my hands
as I wait for my soup and bread.
This morn­ing I found a nest
of your hair in the upstairs drain.
I scooped it out with a wad
of tis­sue and flushed it down
the toi­let. It's still your bathroom,
your curlers unmoved, my shaver
in the bath near the kitchen. How long
will you keep up with this haunting?
You're the one I wish I could tell,
even if it would break your heart,
that my wait­ress has eyes so icy
blue they seem sil­ver. Looking
into them is to watch the dawn
break through a for­est in winter.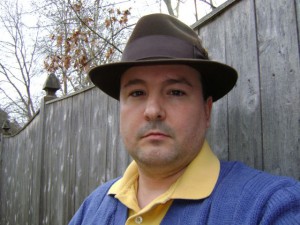 Joshua Michael Stew­art has had poems pub­lished in Mass­a­chu­setts Review, Eupho­ny, Rat­tle, Cold Moun­tain Review, William and Mary Review, Pedestal Mag­a­zine, Evans­ville Review and Blue­line. Pud­ding House Pub­li­ca­tions pub­lished his chap­book Vin­tage Gray in 2007. Fin­ish­ing Line Press will pub­lish his next chap­book Sink Your Teeth into the Light in 2012 He lives in Ware, Mass­a­chu­setts. Vis­it him at www​.joshuamichael​stew​art​.yol​a​site​.com