Comb­ing the naked soil one country
morn­ing, my mam­moth Paw­paw taught
me to spot an Indi­an arrowhead
amidst dun rocks, beneath the wheel
of crow chat­ter fill­ing pine shadows
cast long like swords across buckbrush.
Imag­ine my hands, the buck
fever I would have felt (coun­try­side
echo­ing rifle-blast) if we had shadowed
that day like Monacan hunters—their bows taut,
track­ing under cov­er of corn­grass, deer wheeling
from mis­fired arrows whistling overhead—
but instead, around noon, we sim­ply headed
back to his pick­up. I made sure he buckled
his seat­belt as the trucks' bald wheels
hauled us fur­ther from Pun­go county,
fur­ther from the mem­o­ry, how we spoke tautologically
on the ride home, ges­tur­ing in the shallow
lan­guage of men. Tonight—with five o'clock shadow,
cal­lused palms, hair renounc­ing my head,
and whiskey tongue—I am a man, maneu­ver tight
cor­ners of anoth­er pas­toral road. When I clip the buck—
sov­er­eign mass of mus­cle and antler, countenance
to twilight—the way it pinwheels,
this grotesque bal­let, is almost beau­ti­ful, and its welted
fore­limb pro­longs the pirou­ette until shadowland
swathes the stag in noc­turne once more. I count
my bless­ings, won­der if Paw­paw would shake his head
at my first inad­ver­tent attempt at hunt­ing. Not buckshot
but car bumper. Would he break out the old rifle, teach
me how to look down its sights? Would he tout
its accu­ra­cy, trac­ing car­bon steel? We'll
take her out tomor­row. Reach into the bucket
and grab Paw­paw a cold one, his wall­pa­pered shadow
might say, kitchen bulb a swollen pear, headlines
refract­ed off read­ing glass­es. Beyond, a countervail
of crick­et wings over­comes this futile shadowbox;
ques­tions recede, and I dream of fog ghost­ing up headland
from the bay like smoky snouts through a dark country.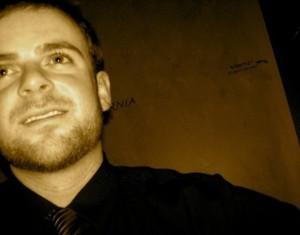 Chris Joyn­er had pre­vi­ous­ly spent the bulk of his life in Vir­ginia Beach, VA, where he played in the woods as a child, then worked in mar­ket­ing out of col­lege. Now an MFA can­di­date at the Uni­ver­si­ty of Mia­mi, he was recip­i­ent of the 2011 Alfred Boas Poet­ry Prize, and his pieces have appeared or are forth­com­ing in the Bare­ly South Review, CaKe, and Fick­le Mus­es. He tends to bas­tardize tra­di­tion­al forms. Please for­give him.