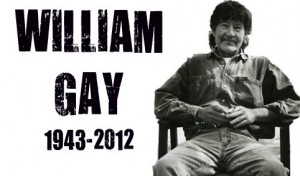 has died, but will not be forgotten.
These are some well-known facts in William Gay's offi­cial biog­ra­phy: that he lived in a cab­in in the woods, that he didn't use email, that he worked in con­struc­tion his whole life until some­one final­ly noticed he was a great writer. But these facts tell only part of the story.

For read­ers and writ­ers, at least, the fuller sto­ry depends upon an eter­nal ques­tion: is a writer born, or is he made? William Gay was born a writer. As a late-life lit­er­ary suc­cess who didn't attend cre­ative-writ­ing pro­grams or pay for pro­fes­sion­al work­shops, Gay sym­bol­ized the hopes of strug­gling writ­ers, espe­cial­ly rur­al ones. He was good, and he found a way to let the world know he was good—those are facts we cling to as evi­dence of what is pos­si­ble. Through­out his­to­ry, peo­ple have made long pil­grim­ages to wit­ness less­er miracles.

William Gay's death last week of heart fail­ure sent tremors through the com­mu­ni­ty of writ­ers and read­ers in Ten­nessee and beyond, peo­ple who loved him as a friend and as a writer. We have asked some of those who knew Gay, in ways large and small, to send us their sto­ries. They come from New York City and from Wyoming, from Maine and from Vir­ginia, and, of course, they come from Ten­nessee. Togeth­er, we hope these recollections—from Dar­nell Arnoult,Adri­an Blevins, Son­ny Brew­er, Tom Franklin, Robert Hicks,Der­rick Hill, Suzanne Kings­bury, Randy Mackin, Inman Majors, Corey Mesler, Clay Risen, George Sin­gle­ton, Brad Wat­son, and Steve Yarbrough—present a por­trait of a man who will be great­ly missed.