Tough Girls
We were a lit­tle afraid of those girls–
tough girls in our town–
the life they came from.
Lank hair, wiry bod­ies with taut faces,
expres­sions hard­ened by scant meals,
their eyes plunged through ours
as they sized us up,
black liq­uid eye­lin­er worn like warpaint–
a warn­ing:
"Don't fuck with me," it said.
By 14 they knew things we did not:
Corn­flakes could be eat­en for supper.
Clothes could be washed out in the sink with
a bar of soap.
Swip­ing a lip­stick or some gum
from Glidden's Drug Store
was pret­ty easy; that you could cry
and hold your breath
at the same time.
They could get the coat and boots off their dad, and put him to bed.
They learned where their mom kept her mon­ey stash and cigarettes,
when not to let the neigh­bor boys in the house, and how to
turn an uncle's old jack­et into a fash­ion statement.
As high school rolled on we noticed
them drop­ping away, petals from a wilt­ing flower.
No longer in class—no longer in the bleach­ers at games—
no longer haunt­ing Main Street with their cim­mer­ian eyes.
Some Nights
There were ways to sur­vive it–
small town life. It required shoe leather,
emp­ty base­ments with record play­ers and a couch,
Boones Farm, a six pack, some smokes;
John Prine, Lin­da, Bob and James to sing us what was real.
It required ther­moses full of sloe gin fizz,
shrimp bas­kets from Robert's Dri­ve Inn,
Mon­ty Python at 10 p.m. on Sunday,
the car­ni­val every June, part-time jobs.
We had been to church; were bap­tized and
con­firmed. Did good up to a point. Then we
awak­ened to our dad's dead end jobs and our
mother's end­less desires for a new car, a new win­ter coat
and a fin­ished base­ment; their long­ings for
paved dri­ve­ways they could ride on into society
weight­ed down our hearts.
We weren't sure what that meant for us,
but the time clock in the fac­to­ry taught us our worth.
And some nights we climbed up on the hood of the car,
watched the sun go down into the cornfield
and planned our escape.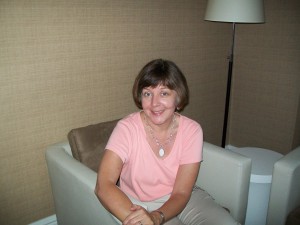 Karen Lock­ett Warin­sky is break­ing out of her rou­tine as a mom and a high school Eng­lish teacher and wants to write more about small town life, liv­ing in Japan, the vagaries of love, and all the ironies of life that have come her way. She was a semi-final­ist in the 2011 Mon­tréal Inter­na­tion­al Poet­ry Con­test, and is cur­rent­ly a mentee with Arc Poet­ry Mag­a­zine. Two of her poems will appear lat­er this year in Joy, Inter­rupt­ed: An Anthol­o­gy on Moth­er­hood and Loss, pub­lished by Fat Daddy's Farm. Ms. Warin­sky grew up in North­ern Illi­nois and holds a Bachelor's in Jour­nal­ism from North­ern Illi­nois Uni­ver­si­ty, and a Mas­ters in Eng­lish from Fitch­burg State Uni­ver­si­ty in Massachusetts.