Oh, I can hear the crick­ets swarm, on warm star­ry nights harping
rhap­sodies: it's as if their surf-like sighs might span even light years.
When fire­flies … get the act togeth­er… right? Teach­ing rainbows,
jel­ly fish, mete­ors' moons and tides: how to flu­o­resce in light years.
A hypo­thal­a­m­ic fil­a­ment that crack­led ( zzzzzzzzzzzt ) when cordite
split the banyan: ablaze from heights of light, a can­dle made of years.
I won­der if Sagan or Hawk­ing knew how lone­li­ness felt to a comet
in Orion's belt, hump­ing its own tail; oroborus for a mil­lion light years.
Yes, all the rage, all the rage when men begin to gauge dis­tance via
Time; as dot­ted lines on a free­way flit … in end­less fits of white years.
In oth­er words what angels say, sot­to voce, tan­gled up with hopeless
recidi­vists: in one ear: LIGHT; the oth­er might take many, many years.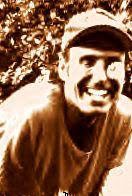 Den­nis Maha­gin is a poet from east­ern Wash­ing­ton state. His writ­ing appears in Exquis­ite Corpse, 3 A.M., 42opus, Stir­ring, Absinthe Lit­er­ary Review, Prime Num­ber, Juked, Smoke­long Quar­ter­ly, Night Train, Pank, Sto­ry­glos­sia, and The Ner­vous Break­down. He's also an edi­tor of fic­tion and poet­ry at Frigg Magazine.