Every night, at two a.m., I kneel
at the altar of her rust-brown recliner.
After the cred­its roll on past The Big Val­ley,
and Miss Bar­bara Stanwyck
has her last, hearty laugh,
I fill a plas­tic pan
packed home from the hospital
with luke­warm city water
and Epsom salts.
As I sink her tired feet to soak,
I won­der how many miles…
It's hard to think
through the cam­phor stink
of Dr. J. R. Watkins' white liniment.
But I man­age to imagine
where rough heels
used to be,
ghosts of cal­lus­es that come
with hard work
and thin-soled shoes.
The med­i­cine burns
my gnawed-up nails.
The effort of her smile is the part
that tin­gles.
"You've got Pap's hands,"
a bless­ing,
"All palm and no fingers."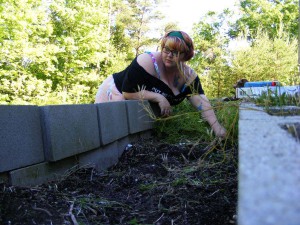 Misty Marie Rae Skag­gs, 30, is a two-time col­lege drop-out who cur­rent­ly resides on her Mamaw's couch in a trail­er at the end of a grav­el road in East­ern Ken­tucky. Her work has been pub­lished here on fried​chick​e​nand​cof​fee​.com as well as in print jour­nals such as New Madrid, Pine Moun­tain Sand & Grav­el, Lime­stone and Inscape. On June 9th, she will be read­ing her poems on the radio as part of the Seed­time on the Cum­ber­land Fes­ti­val. When she isn't bak­ing straw­ber­ry pies and tend­ing the back­yard toma­to gar­den, she spends her time read­ing and writ­ing damned near obses­sive­ly in the back porch "office" space she is cur­rent­ly shar­ing with ten kittens.