The fore­cast is call­ing for rain on Open­ing Day—not show­ers, but a holy-shit-the-sky-is-piss­ing April down­pour. He packs his books into the box­es he picked up at the liquor store while his wife stands in the door­way to their bed­room, her arms crossed. "Will you be out of the house by Thurs­day?" she says.
"It's Open­ing Day for the Red Sox," he says and reach­es onto the shelf for anoth­er hand­ful of books, the McCarthy nov­els he read in a col­lege course. "I'll be out by the weekend."
"Why doesn't your girl­friend help you move?" She says "girl­friend" like she's spit­ting poi­son from her mouth.
He rolls his eyes. "I don't have a girl­friend," he says. "She's a friend, and we were talk­ing at a bar. She grabbed my cock, and I told her to quit it."
"I hate you."
"I know." Calm and delib­er­ate, he takes a box cut­ter from the pock­et of his jeans. He'd like to slice a hand­ful of her hair from her head, maybe scalp her a bit—nothing life threat­en­ing. Instead he slices the duct-tape and toss­es anoth­er box of books into the cor­ner of the room.
With her back again now turned to him, his wife says, "Why can't you be out by Thurs­day? I can't stand see­ing your lying ass around this house anymore."
"It's Open­ing Day."
"I just remem­bered that our son has base­ball prac­tice on Thurs­day," she says. "You said you'd bring him." Though he can't see it, his wife grins.
"It's sup­posed to rain," he says and imag­ines the crack of a bat, the slap of ball hit­ting a glove, the rustling of the sta­di­um crowd, every­one wait­ing for noth­ing and every­thing. He imag­ines his son catch­ing a pop fly and dying to tell him. He imag­ines the skin­ny kid star­ing into the stands and see­ing only his mother's scowl, her bit­ter lips and slight­ly-scalped head. "I'll take him to prac­tice," he says and starts pack­ing anoth­er box of books.
Sure, the girl grabbed his cock, but he wasn't sur­prised and she wasn't his girl­friend. She's just some girl he invit­ed to a ball­game, if it doesn't rain.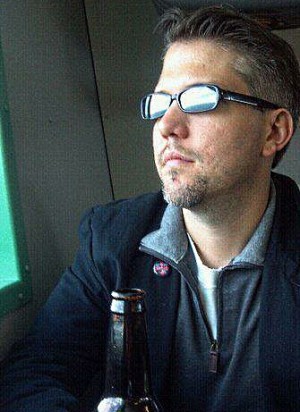 Nathan Graziano lives in Man­ches­ter, New Hamp­shire. He is the author of three col­lec­tions of poet­ry—Not So Pro­found (Green Bean Press, 2003), Teach­ing Metaphors (Sun­ny­out­side Press, 2007) and After the Hon­ey­moon (Sun­ny­out­side Press, 2009)—a col­lec­tion of short sto­ries, Frost­bite (GBP, 2002), and sev­er­al chap­books of fic­tion and poet­ry. He has an MFA in fic­tion writ­ing from The Uni­ver­si­ty of New Hamp­shire and teach­es high school. A mem­oir Hang­over Break­fasts will be pub­lished by Bot­tle of Smoke Press this sum­mer. For more infor­ma­tion, vis­it his web­site at www​.nathangraziano​.com.