I saw a red-tailed hawk,
with his red tail flashing
sunlight
lift up off the side
of the highway,
that storms a con­crete path
par­al­lel to Louisville,
along the riv­er bank.
He shouldn't have been there.
A big, bronze bird
like the one who lives
along the weedy, grav­el trail
to the home cemetery.
He shouldn't have been there,
beau­ti­ful­ly out of place,
hunched up in shadow,
pick­ing at fat, rat roadkill,
under an overpass.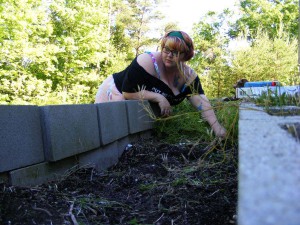 Misty Skag­gs, 30, is a hill­bil­ly blog­ger, an inde­pen­dent schol­ar, a bare­foot poet and a life­long res­i­dent of East­ern Ken­tucky. Her poet­ry and prose have appeared in lit­er­ary jour­nals such as Pine Moun­tain Sand & Grav­el, New Madrid, and Lime­stone. Cur­rent­ly, Skag­gs is hock­ing her self-pub­lished col­lec­tion of grit­ty, nar­ra­tive style poems which offers a dark and inti­mate look at pre­scrip­tion drug abuse in Appalachia.