COMINGS AND GOINGS, OR,
DORIS HOLBROOK HEADS AGAIN FOR HOME
(after James Dickey's "Cher­ry­log Road")
I. Jim­my
Off High­way 106
At Cherrylog
I go at noon to meet
This boy that drives
His daddy's beat-up
Indi­an, a Chief,
A hand-me-down like most
Of Mama's clothes,
(Passed to me long after
She passed). When we're
At school, Jim don't—no,
Doesn't–know my name,
Just swags on by without
A by-your-leave;
Some big-shot boy, his tee
Shirt sleeves twice rolled,
A Par­lia­ment unlit
Hung from his lip,
A red cloth jack­et when
The weather's cool.
(A Geor­gia guy that smokes
A fil­tered cig?
Can you believe? What's wrong
With Chesterfields?)
I know about James Dean
That drove a Porsche,
A Tri­umph motorbike,
An Indi­an
500, not some wired-
Round piece of tin
That whines and whinges. Half
A mile away,
I hear him com­ing, squall
Of tires and all.
I'd rather ride my Schwinn.
Back of the barn,
Than that. "And just because
Your name's James D.
Don't mean that you're a star"
(Or doesn't mean).
I'll tell him lat­er. First
I'll make him wait
And wait and wait, because
I told him noon.
"You always make men sit,
Then get right up
When you waltz in the room
Like Marilyn,"
The Con­fi­den­tial says. Now,
I'm not too much
A tease; I'd just as lief
Talk carburetors,
Plugs, lug wrench­es, hot-
Wired starts, almost
Any­thing than flirt. But try
To tell a fellow
One fact—sprockets, stock cars,
Or even names
Of snakes…A boy from town's
All hands, no ears,
When tus­sling in that spring-
Sprung Pierce Arrow
A '34 stalled out among
Junked cars, in what
Jim likes to call parking
Lot of the dead.
That's poet­ry.Well, bone
Yard's more the word,
If you ask me, picked-
Over field, where
I can glean, like Ruth,
What's left behind.
II. Dad­dy
The lay­ing on of hands
Is taught in church,
Along with strychnine
In a may­on­naise jar
(I still see the label's
Gum­my trace—Blue Plate),
And rat­tlers coiled like
Sis­ter Hattie's hair.
You've stropped me for not
Lis­ten­ing straight
Through, again the laying
On of hands, rod
Not spared, my backside
Not spared neither.
My skin is welt­ed red,
And marks are raised
Like rick­rack round an apron's
Edge—a hem
To hem me in. When Jim's
With me, I'm hemmed
In that same way. Sometimes
He'll sing a hymn
Of rat­tles, sighs, and snuffles,
High notes all,
Notes I can't quite reach,
I'm more alto
In shape-note singing, more
The harmony.
I hold the mea­sure low,
And Jim holds me
And holds me and holds me.
He holds me down.
The corkscrew springs are fangs
Pierc­ing my back,
Dot­ted Swiss to the rick-
Rack's snaky lines.
What would you say, Daddy,
If you was to see
The oth­er points I've picked
Besides these plugs
And knobs, my new engine
Revving up?
III. Doris
What's sharp­er than
A serpent's tooth
I know is me,
Ungrate­ful child.
Born on a Thursday,
Far to go and
Red­ding up to get there.
Mama's movie
Mag­a­zines, Mary Worth,
True Con­fes­sions
And her Bible
All the compass
I need to steer me north
Of North Georgia,
Away from Cherrylog
And Cher­ry Cokes
And cars that isn't, no, aren't,
So cher­ry. My lipstick's
Cher­ries in the Snow, case
Black as that old
Pierce-Arrow's hood, spangled
With stars, more than
The sky over my head,
More than what's notched
In old Orion's belt, or
Jimmy's either.
My fin­ger­nails are varnished,
And my pocketbook
Is patent-leather red.
The high­way snakes
Before me like that
Fat rac­er slow
In sun and smudged
Light­ning in
Shad­ow. Black road, black
Rac­er, black dress
From back of Mama's closet.
Of the black and red words
In her Bible, I recall
The first ones best,
Matthew and Gen­e­sis:
Begat. Begin­ning.
IV. DeeDee (Mrs. Madi­son) Shear­er III
I know that time is ticking
After me; the good
Lord knows I've done my best
To push its hands
Away from me (the way
I nev­er did
With Jim's). How time's passing
And now it's past.
I've gone back only once
Since Dad­dy died,
Decades since I left
A girl of 15
On the farm, decades since
Jim died. I've heard
He wrote some fine books in
His time. I bought
But nev­er read them, my coffee
Table a marble
Mau­soleum for books.
My hus­band likes
To brag I went to school
With Jim. Well, I've
Been schooled, all right. I've swapped
My name and hair
For some­thing more genteel,
Cher­ries in the Snow
For mut­ed Clin­ique gloss.
Madi­son sells
Chryslers, Buicks, Cadillacs,
Three dealerships.
He doesn't know I've changed
Out plugs and points
As eas­i­ly as shoes. He
Knows I tap my nails
But not lug wrench­es. He knows
The pedicured,
And Botoxed, frozen-
Cho­sen, prop­er tail-
Gate-going Papa­gal­lo
Girl, pearls and
Cir­cle pin that he married,
Good at golf and
Gar­den­ing, who dabbles
In real estate.
Daddy's acres and that
Neigh­bor­ing auto
Sal­vage yard will fetch me
Quite the tidy sum.
I'll turn it over fast,
For Atlanta
Busi­ness­men will swallow
Up a farm like
Black­snakes after mice, one
Sin­gle gulp.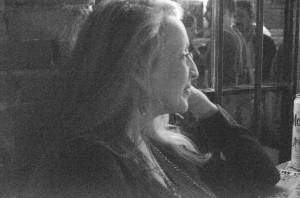 Pamela John­son Park­er is an adjunct pro­fes­sor of human­i­ties and poet­ry at Mur­ray State Uni­ver­si­ty and a full-time med­ical edi­tor. Her fic­tion, poet­ry, nd cre­ative non­fic­tion have appeared in Anti‑, Poets and Artists, New Madrid, Mus­ca­dine Lines, A Jour­nal of the South, Iron Horse, Broad­sided, Cen­trifu­gal Eye, Blue Fifth Review, and qar­rt­silu­ni. her poet­ry is includ­ed in Best New Poets 2011 and Poets on Paint­ings. A final­ist for this year's Bruck­heimer Award from Sara­bande Press, Pamela lives in west­ern Kentucky.