The mist cold and thick, I had the high beams switched off
so the bril­liance wouldn't chan­nel in and blind me—
the switch­back roads wind through the woods past
hous­es built by peo­ple with wag­ons drawn along
by beasts with four legs just like you still have.
It was close. I would say you came out of nowhere
but that's a lie. You came out of the woods, your home.
These woods have been home to baby deer long before
I came and will be long after I break free these surly bonds.
I can say with cer­ti­tude that I was dri­ving care­ful­ly tonight.
When your eyes and fur came before me I did the thing—
I slammed on my brakes. The road lit bright red in back
of my car, a Ger­man num­ber. It han­dles well in stress
like beasts with four legs just like you still have.
Inch­es from your shell-shocked lit­tle face,
I stopped. Your moth­er came after you, rearing
as I would have. Her life with us here must be difficult,
all her nights most like­ly fraught by ances­tral memories
of wolf packs hunt­ing her herd. She might be a sin­gle mom.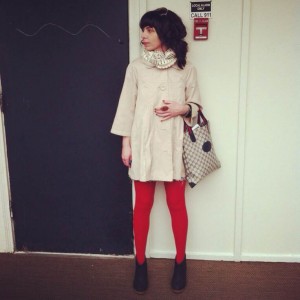 Dena Rash Guz­man is a Las Vegas born poet and essay­ist. She now lives in a riv­er gorge out­side Port­land, OR and is the founder of Lust­ed Road Hon­ey Co. & Hum­ble­bee Pol­li­na­tor Con­ser­va­to­ry. She is the author of Life Cycle—Poems, Dog On A Chain Press 2013. www​.denarashguz​man​.com