Don­ald Fagen croons from fifth avenue
about hav­ing a tran­sis­tor radio and a large sum
of mon­ey to spend as we jet along Main Street
in our ragged white Cut­lass Supreme stained
with the burn of mud and snow from the winter
and spring back roads, my ex wife at the wheel
behind her black rimmed glass­es, her eyebrow
raised as beau­ti­ful­ly as John Belushi's; storefronts
are shut­tered except for Ruth's Din­er, with inbred
apple pie cher­ry puffed heads with star­ing possum
eyes in cov­er­alls dust­ed by gran­ite from the nearby
quar­ries we park our car in at night to get stoned;
we're en route to the Shaw's Super­mar­ket in Montpelier
that sells our favorite hum­mus, and we scare off the
deer at night in our dri­ve­way who come to drink from
the small creek we get drunk and swim in, the neighbor
lady yelling at her kids at far too ear­ly an hour for the
hang­overs we earned from a whole case of
Long Trail Dou­ble Bag ale we split watch­ing Joseph
Camp­bell videos filmed on Sky­walk­er Ranch and old
episodes of Star Trek, and so we threw a half-drunk
beer bot­tle "pho­ton tor­pe­do" at that loud, roly poly,
mu mu clad klin­gon that shat­tered against one of the
trees in our back­yard woods, but every­one was too out
of it from the bugs and the humid­i­ty to notice or much care
up here in red­neck space where no one can here you scream.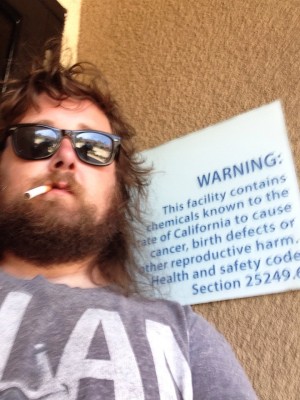 Kevin Ridge­way was born and raised in South­ern Cal­i­for­nia, where he cur­rent­ly lives and writes. He spent many years in the rur­al north­east, where he hopes to some­day return. His work can be found or is forth­com­ing in Chi­ron Review, Nerve Cow­boy, LUMMOX, Right Hand Point­ing and The Mas Tequi­la Review. His lat­est chap­books are On the Burn­ing Shore (Arroyo Seco Press) and Rid­ing Off Into That Strange Tech­ni­col­or Sun­set: Dal­las-FT. Worth Poems (The Week­ly Weird Monthly).