Adri­ana Ivan­ci­ch and Ernest Hem­ing­way Beside a Stuffed Lion Head
I place this cir­cle of stones for the living;
May we and oth­ers not go beyond it in life;
May we all live to a hun­dred autumns,
Dri­ving death away from this heap.
—"Funer­ary Cus­toms, Hin­du" from Death and the After­life: A Cul­tur­al Encyclopedia
The pic­ture was tak­en at Fin­ca Vigia, San Fran­cis­co de Paula, Cuba.
And had Hem­ing­way been asked his rela­tion­ship sta­tus on Facebook—
110 years old, headless—he might have clicked, It's com­pli­cat­ed
because smil­ing Adri­ana Ivan­ci­ch was his inamora­ta and muse.
He was mar­ried at the time. Read­ing books on Hin­duism that said
we don't die when we die. Death is just a door. So we go on and on.
All right, but then what about this lion? Bar­ing wicked-sharp incisors,
the beast takes up a good third of the pho­to­graph. Where did this lion go
after an Amer­i­can on safari in East Africa in 1954 had stilled its heart?
So what if Ernest loved two women in denial of the other's existence.
So what if some as-yet-unstuffed lion did that with lioness­es. Lions
aren't monog­a­mous. Don't men and women and lions go forward
into death and into light that is most­ly bright and brit­tle forever
and wants to tell us some­thing impor­tant, and can't. Won't.
If you ask why I like Hem­ing­way enough to pause on the picture,
I might say that he reminds me of every tor­tured man I have known.
Of my dying father. Who liked to talk about Paul New­man movies:
Do you remem­ber the time I took you to the Heath Dri­ve-In to see
Butch Cas­sidy & The Sun­dance Kid? What was with the last scene?
In his Stra­tolounger reclin­er with the replace­ment release handle,
the mod­el man­u­fac­tured by Caye Home Fur­nish­ings, the whole
mech­a­nism guar­an­teed for life, he would cough. Spit. Cough.
The last days and nights he bare­ly slept. We stayed up. Talked.
He was qui­et. And I read To Have and Have Not. He got worse.
And before the last cough­ing fit, he asked about the book. I said
some­thing. He lis­tened. Looked at me. Choked hard. And died.
The dark in his eyes that same man­i­fest dark in the lion's eyes
as if what departs like that leaves noth­ing. A token, a trophy.
Fire and the Fury
After mid­night in July, head­lights rake the orchard,
our ten­an­cy beneath rows of obscene­ly fruit­ing trees,
the army-sur­plus tent we leave to lob apples at cars,
and I won­der if some­thing in us is made of fireworks,
being young, or maybe not quite age­less or wearing
for­ev­er like a T‑shirt, but made for breath­less escapes.
Of all sounds, the nois­es of cor­nered boys most pulses
with the oper­a­tional def­i­n­i­tion of Fucked. My cousin
Jim peti­tions an unspec­i­fied God. Says his neck throbs,
hav­ing been gar­rot­ted by a swim­ming-pool pow­er cord.
His back aches from the fall, he says. A shoul­der too.
Hav­ing to hide out like this on the 4th is unbearable.
Branch­ings spill into vor­tices of spi­ral­ing shadow,
sign and coun­ter­sign in the false dawn of headlights.
A man is quar­rel­ing with Jim's broth­er Bob; and Bob
is about to save him­self (and us) with talk of parents,
grandil­o­quent half-truths voiced in light detonating
like bot­tle rock­ets under a heav­en of deliverance.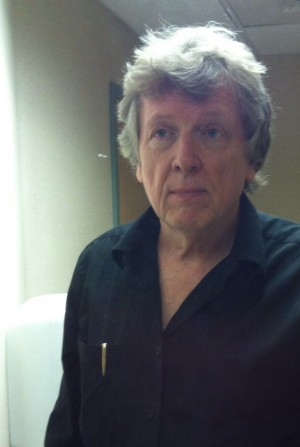 Roy Bent­ley is the author of four books and sev­er­al chap­books. Poems have appeared in The South­ern Review, Black­bird, Shenan­doah, Indi­ana Review, Prairie Schooner, North Amer­i­can Review and elsewhere—recently, in the antholo­gies New Poet­ry from the Mid­west and Every Riv­er on Earth. He has received a Cre­ative Writ­ing Fel­low­ship from the NEA (in poet­ry), as well as fel­low­ships from the arts coun­cils of Ohio and Flori­da. He makes his home near the Jer­sey Shore.