Coun­try Music
Yard's bald of flood.
Rain botch­es the night
pours through Steve McQueen's
tomb, Ten­nessee louvers.
I try to decide
this tight vow, your parting
since I can't forget
the look in his eyes
when we fucked read­ing Nietzsche.
He stayed inside me
died once he'd braided
my legs to the side of this house.
Moon smells like danger.
Rac­coons mas­quer­ade as Ed Gein.
lap­ping placenta
under alu­minum wings.
I find the trapdoor.
hum­ming and bleeding.
You're born by my knife.
Hot Rood
Mrs. Japheth nails my arms
pours Dark Whore for the hounds
who lick blessed across a barn wall
tight­en up my tits.
Old Grey snarls my moth ate his blister
one false hope and I'll be cured.
Rats twin­kle Esmerel­da
from the nails above the chifferobe
Nerf balls drop­ping from the loft
as Japheth fists my sister
wip­ing out her snifter
with scratch-and-sniff black ink.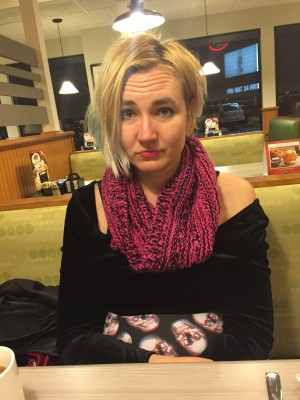 Jessie Janeshek's full-length book of poems is Invis­i­ble Mink (Iris Press, 2010). Her chap­book Rah-Rah Nos­tal­gia is forth­com­ing from danc­ing girl press. An Assis­tant Pro­fes­sor of Eng­lish and the Direc­tor of Writ­ing at Bethany Col­lege, she holds a Ph.D. from the Uni­ver­si­ty of Ten­nessee-Knoxville and an M.F.A. from Emer­son Col­lege. She co-edit­ed the lit­er­ary anthol­o­gy Outscape: Writ­ings on Fences and Fron­tiers (KWG Press, 2008). You can read more of her poet­ry at jessie​janeshek​.net.