"Same again – no ice."
The bar­man glares at me. I don't blame him. No one likes being told how to do their job.
***
Slattery's Meat Mar­ket is sit­u­at­ed in an ugly, unre­mark­able part of town. It used to be a fac­to­ry social club, back in anoth­er life­time, but now it hosts live pussy shows and the occa­sion­al cock­fight. When I arrived, Slat­tery was scrub­bing blood-streaked vom­it off the front steps. Despite the bru­tal­ly cold Autumn after­noon, his evening shirt was trans­par­ent with sweat.
There are no coast­ers, so the bar­man places the drink on an old Thighs & Fries nap­kin. Appar­ent­ly Slat­tery retrieved them from a skip after the chick­en joint was shut down ear­li­er in the year.
There is a video­tape play­ing on a small black and white TV behind the bar. All I can real­ly see is a jud­der­ing blur of skin and bone, but I half-recog­nise one of the girls, so I assume that the video was made local­ly. It is always nice to see local entre­pre­neurs look­ing out for one another.
***
I turn back towards the stage and sur­vey the smoul­der­ing wreck­age of my past. Ani and I were nev­er mar­ried, but we came close. Too many hot, blurred after­noons. Too much vod­ka and Moun­tain Dew. Back then she had a part-time job in a Tex­a­co garage, I didn't have a job of any descrip­tion. They were good days.
I move fur­ther down the bar, away from the toi­let block and the stink of hot piss cours­ing through the rusty pipes. The stage con­sists of five paint-splat­tered planks bal­anced across a load of beer crates. This end of the room smells of stale cig­a­rette smoke and fresh pussy sweat.
Ani is nude, but a moment pass­es before I realise that she is preg­nant. It takes me by sur­prise. She told me that her insides had been chewed up after a botched appen­dec­to­my, so it takes me by sur­prise. I remem­ber the ragged scar well. I used to trace it with my fore­fin­ger after sex.
***
Her dark hair has been shaved to stub­ble and her scalp is the colour of a burned car­pet. A cig­a­rette dan­gles lazi­ly from her lips as she gets her grind on. Flecks of ash fall across her breasts every time she makes a sud­den move­ment. She is com­plete­ly shaved down below, but I can see small tufts of hair under her armpits. Her boots are scuffed and sil­ver. They look too big for her, like they used to belong to some­one else.
I came here today to tell her that her father has died in prison, but I'm not sure I have the heart. I was told that he bled out in the chow line at Chan­nings Wood after get­ting a shank between the ribs. The knife­man had melt­ed a prison-issue razor blade into a plas­tic spork. Obvi­ous, but effec­tive. What Ani doesn't know won't hurt her. Maybe.
***
The song ends abrupt­ly, and when Ani climbs down from the stage a cou­ple of guys drift across the sticky floor towards her. They remind me of rabid dogs in search of spoiled meat. At first I think they are carnies–some of Eugene's boys, maybe, but they look too clean.
"What does a man have to do to get a fuck around here?"
The first man is mid­dle-aged and hard-look­ing. His eyes are sunk deep in their sock­ets, and his ears and nose look too big for his with­ered face. I slide off my barstool towards them. Slat­tery usu­al­ly employs a bounc­er – a big fat guy with a lump ham­mer – but he doesn't start his shift until six o'clock. Up close, I recog­nise the tough guy. His name is Robert John Her­shey. He used to be a cop, until they kicked him off the force.
I stomp the back of his legs and he crum­ples like an old cig­a­rette packet.
Ani's wet lips part as she sees me. She doesn't smile. Nei­ther do I.
Her­shey peels him­self off the dirty floor, with a nasty-look­ing smile plas­tered across his rot­ten face. I see a glint of met­al under the queasy bar lights as he lash­es out at me with a set of brass knuckles.
I allow the car aer­i­al to drop from my sleeve and whip him across the eyes in one flu­id motion. He howls like a stomped dog – blood leak­ing out from behind his bony fin­gers. He stum­bles around the bar shriek­ing, bounc­ing off tables and chairs.
The oth­er man watch­es word­less­ly, enjoy­ing the show. He is called Charles Bog­gs. He's a cop, too. He reach­es into his checked sports jack­et and comes out with a bat­tered lit­tle gun. It looks like a throw-down piece. He smiles unpleas­ant­ly, and his skin looks see-through. His bad­ly shaven jaw­line clicks as he shuts his mouth.
He aims the piece at my face, hand trem­bling slightly.
He steps clos­er, and I pic­ture the bul­let enter­ing my eye-sock­et and splat­ter­ing my skull-meat across the bar.
I pic­ture the bar­man reluc­tant­ly mop­ping up the vis­cera with a stack of Thighs & Fries napkins.
I pic­ture shov­el­fuls of win­ter mud rain­ing down on my cheap, ply­wood coffin.
My heart thuds like a breeze­block being thrown down a ten­e­ment stair­well. I'm about to close my eyes when Bog­gs grunts and drops to his knees. Slat­tery stands over his body, breath­ing like a horse. A tyre iron dan­gles limply from his hand, like an after­thought. The blood pool­ing under Bog­gs' dent­ed skull looks pos­i­tive­ly black.
"Fuck… thank you."
He shrugs awk­ward­ly. Slat­tery is a tall, rangy man, but his face has been ruined by too much nico­tine and gin. He grunts.
"I don't have many friends, so I take care of the few I've got."
Then he starts to drag Bog­gs through pool of skull-blood by his jack­et col­lar. He leaves a fat, dark smear on the floor.
***
Ani doesn't reap­pear from behind the smoke-coloured cur­tain next to the stage, and I don't have the ener­gy to look for her.
The bar­man pass­es me a tall glass of some­thing luminous.
"Cock­tail. On the house. Slat­tery calls it a 'Club­foot'."
I take a sip.
"I hope it tastes bet­ter com­ing up than it does going down…"
He doesn't laugh, but nei­ther do I. It wasn't a fuck­ing joke.
***
After­noon con­geals into evening, and the Meat Mar­ket becomes hot with bod­ies. Crowds make me ner­vous, so I but­ton up my jack­et and leave. Slat­tery has resumed scrub­bing at the blood­stain. The sky is the same colour as his cold, grey eyes.
A sick­ly yel­low smile forms between his lips.
"Some­day, we are all going to pay for this."
I nod, leav­ing him to the blood-streaked vom­it, and walk into the hard win­ter light.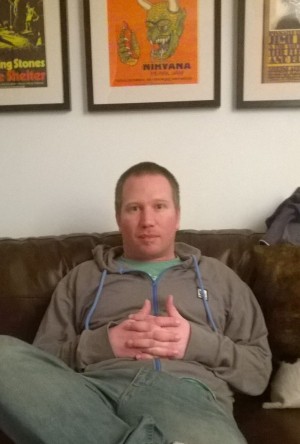 Tom Leins is a dis­graced ex-film crit­ic from Paign­ton, UK. His short sto­ries have been pub­lished by the likes of Akashic Books, Shot­gun Hon­ey, Near to the Knuck­le, Rev­o­lu­tion John, and Spelk. He is cur­rent­ly work­ing on his first nov­el, "Thirsty and Mis­er­able." Get your pound of flesh at https://​thingstodoin​de​von​wheny​oure​dead​.word​press​.com/