The road starts 896, Newark, Delaware
It start­ed with Black Beau­ties but also with Pink Foot­balls. You remem­ber those, at least one of them? When you chopped them up and inhaled the burn was remark­able. Take hun­dreds of tips of thumb­tacks and rip them through your nasal cavity.
You nev­er snort­ed Pop Rocks. Mikey died from snort­ing Pop Rocks or Black Beau­ties or Pink Footballs—or some­thing. Some­how, his entire nose explod­ed and left a hole in his face. He had to kill him­self right then and there. How the hell would he explain that to the Life Cere­al folks?
That's not a gate­way drug. You knew this kid named Lar­ry Crank, who was so bad that the drug was his nick­name. A few lines of crank and you put the cas­sette of Live Rust on the play­er and just let it play….ten, twen­ty times. It was an entire day, an entire night. Your room­mate said, "I used to like Neil Young." You had a dif­fi­cult time fol­low­ing that conversation.
You burned your lips on a crack pipe, with­out the warn­ing: The glass on this pipe reach­es extreme tem­per­a­tures. Han­dle with care. You didn't care. The blis­ters popped and fused your lips together.
Then the curly haired girl wouldn't kiss you. She said you had some sort of dis­ease, a social dis­ease, some STD beyond recog­ni­tion. You'd not been that way for very long. You grew a beard and set it on fire. You will nev­er do it again.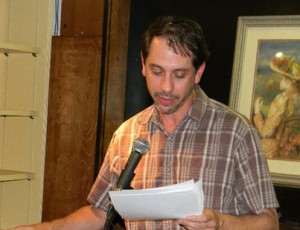 Tim­o­thy Gager is the author of eleven books of short fic­tion and poet­ry. His lat­est, The Thurs­day Appoint­ments of Bill Sloan, (Big Table Pub­lish­ing) is his first nov­el. He hosts the suc­cess­ful Dire Lit­er­ary Series in Cam­bridge, Mass­a­chu­setts for over thir­teen years and is the co-founder of Somerville News Writ­ers Fes­ti­val. His work appears in over 300 jour­nals, of which nine have been nom­i­nat­ed for the Push­cart Prize. His work has been read on Nation­al Pub­lic Radio.
His work has appeared in over 300 jour­nals since 2007 and of which nine have been nom­i­nat­ed for the Push­cart Prize. His work has been read on Nation­al Pub­lic Radio.
Tim­o­thy was for­mer­ly the Fic­tion Edi­tor of The Wilder­ness House Lit­er­ary Review, the found­ing co-edi­tor of The Heat City Lit­er­ary Review and has edit­ed the book, Out of the Blue Writ­ers Unite: A Book of Poet­ry and Prose from the Out of the Blue Art Gallery.
A grad­u­ate of the Uni­ver­si­ty of Delaware, Tim­o­thy lives in Ded­ham, Mass­a­chu­setts and is employed as a social worker.