Rougher Beast
I took my train­ing from daddy,
Drunk­en wak­ing me at three am
With a belt buck­le across my legs.
First three or four licks left red welts;
Then I numbed and hardened,
Nev­er giv­ing in when he screamed
Cry you lit­tle bas­tard, cry,
So's I can stop, but he didn't
And I grit­ted my teeth
And dug my knuckles
Into the bed roll
Till he fell into a cough­ing fit
Then began to cry hisself.
Rougher Beast 14
That preach­er said if you try
Hard enough you can feel it
And I watched my broth­er walk
Down to the altar call, fall
On his knees blub­ber­ing prayers
And I tried talk­ing to God
I said please let me feel it
Let me know that this is real
The wid­ow played the organ
And the con­gre­ga­tion moaned
But I sat my head ringing
With the com­mo­tion till the
Build­ing and peo­ple vibed
Togeth­er like a mess of
Hogs smelling the feed barrel
When I opened up the lid
And I felt noth­ing but a
Hard knot form­ing inside me.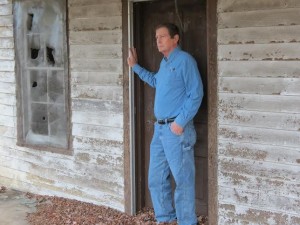 Tim Peeler's most recent books are Hen­ry Riv­er: An Amer­i­can Ruin from Lum­mox Press and Knuck­le Bear from Red Dirt Press.