first appeared in Tar Riv­er Poet­ry Spring 2010
Dur­ing din­ner my uncle's behind the house
help­ing a heifer through her first delivery.
Inside, dry turkey, hot din­ner rolls.
The heifer's cries bel­low­ing through the house.
Green beans, sweet pota­toes, and cornbread
stuff­ing. All with the tang of
this might be his last.
And who even remembers?
I'm star­ing out the back window
at the heifer's uterus prolapsed
on the mud­dy grass.
The vet and my uncle hose it
with per­ox­ide and shove it back
inside like a beat­ing heart into a wine bottle.
The trees haven't even begun to turn,
and my grand­fa­ther can still speak.
Know­ing we will soon be gone,
he's telling every dirty joke he can remember.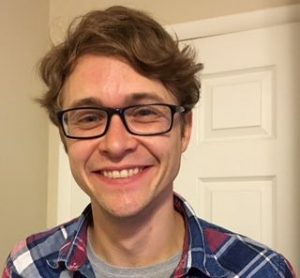 Tay­lor Col­lier cur­rent­ly lives in Tal­la­has­see. Work has appeared or is forth­com­ing in some places like Bird­feast, The Jour­nal of Applied Poet­ics, The Lau­rel Review, Night­block, Rat­tle, Smar­tish Pace, Tar Riv­er, Zone 3, and oth­ers. More poems and writ­ing about poet­ry at tay​lor​col​lier​.com.