And I was there as well, I saw. My hands, too,
went out and made the world. I did not
only imag­ine the sol­diers, I touched them.
I soothed, with cool rags, the dying John­ny soldier;
I soothed, with cool rags, the dying Michiganite;
I caressed their ten­der knobbed mus­cles, ten­der paunch;
sol­dered, with iron set to the banked blaze, more iron;
slammed the errant wag­on wheel in place;
ham­mered in the things for hammering;
wiped the drool­ing face of the orphaned cow
whose moth­er was stolen by Lincolnites;
and dreamed to caress the ten­der muscle
of one Lin­col­nite who robbed as Robin Hood,
who spied me one whole week from a dis­tant ridge
as I went through my nurse and farm girl chores,
and when he had stolen our sec­ond stolen cow
left me my allot­ted pitch­er of blue cream. Know:
I, too, would have ten­dered my body on the field,
though I was ten­der, ten­der as any boy who could not say it–
who I would've killed, or as easily've doused,
at the first request, with my amorous wet.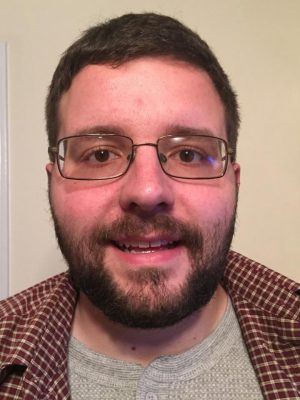 Matt Prater is a poet and writer from Saltville, VA. Win­ner of both the George Scar­brough Prize for Poet­ry and the James Still Prize for Short Sto­ry, his work has appeared in a num­ber of jour­nals, includ­ing Appalachi­an Her­itage, The Hon­est Ulster­man, The Moth, and Still. He is cur­rent­ly an MFA can­di­date in poet­ry at Vir­ginia Tech.