When the cop pulled us over at close to 4 in the morn­ing, my drunk­en uncle said to let him do the talk­ing. The blue lights lit his face in the rearview mir­ror, and lat­er it would occur to me how much time we spend look­ing behind us, but I was too drunk and sick with wor­ry to won­der about any­thing then.
He had wok­en me at one by kick­ing the foot of my bed after he'd snuck into my mother's house.
"Get up," he whis­pered, "there's beer to be drunk."
In the dark room he was a greater dark­ness. I was 14 at the time, thin as the light through the open win­dow. My voice was just deep­en­ing and here was my uncle want­i­ng to take me out into the night because he had bor­rowed his boss's car, a Tur­bo Z that would hit 120 on the long stretch of high­way that took us toward town and some­where close to 140 when we passed the police sta­tion on our way home.
I did let him do the talk­ing, both when the cop leered out­side the win­dow and when he coaxed me out of the com­fort of my bed. I got dressed in the dark while he stood in the hall hop­ing my moth­er didn't hear, and we went out whis­per­ing, him telling me how fast the car would go and how much beer he had. He was 27, with a slim black mus­tache like the one I wished I could grow and black hair feath­ered back, my youngest uncle whom I adored because of times like these, because at that age I already had some­thing swim­ming in my blood­stream like the alco­hol I was soon to be suck­ing down, some pre­dis­po­si­tion for the dark hours. I knew where the night was headed.
My uncle fold­ed him­self into the small car and we screamed up to sev­en­ty before we cleared my street. Near the high­way we hit a small hill so hard we came off the ground and spilled our already-opened beers when we land­ed, swerv­ing, my uncle say­ing shit and fuck before he final­ly right­ed us. When he had the car under con­trol he down­shift­ed and popped the clutch and then we real­ly began to fly. It was a move­ment toward who I would become, a man more like my uncle, dri­ving fast and drink­ing hard and seek­ing sex in the small hours of the night before the woman who would even­tu­al­ly become my wife final­ly set­tled me down.
We went through town past the dark­ened hous­es and cruised through the park­ing lots of cin­derblock bars. I didn't know what we were look­ing for, only sus­pect­ed there was some­thing out there in the night we were drawn to. Already I knew there was some­thing wrong with me, some hole I'd try to fill with booze or anger or dis­re­gard. I could tell you what it was now, for I've spent many nights look­ing for the same thing under the spin­ning stars and have more often than not found it, but I knew noth­ing then. We drove through near­by towns where the streets har­bored yet a few teenagers and past yel­low-lit bars where the glow of cig­a­rettes in the park­ing lot looked like some pat­tern a per­son might parse to under­stand what it was that drew him out here. In the inte­ri­or light of a Ford pick­up a woman was going down on a man with his eyes rolled back in his head, and my uncle honked the horn to scare them before speed­ing off, but the woman nev­er stopped what she was doing nor did the man look up. It was the first sex I had ever seen and I was already half-drunk from my half-beer and so told my uncle, talk­ing tough, to get us some girls, man.
At a gas sta­tion in a desert­ed town we ran into two girls who invit­ed us back to their house, where a beard­ed man a few years old­er than me and twice my size wel­comed us in by down­ing a beer in one long drink then throw­ing the can at the wall. He offered his hand, squeez­ing hard. Lat­er, when I was in the bed­room and awk­ward­ly push­ing inside the girl he had thought was his, he would scream at the locked door and tell me he was going to kill me, until my uncle told him to shut the fuck up. When we left he flexed his hands, decid­ing whether or not he could take my uncle and then me. The girl kissed me. She ran her tongue light­ly over my lips and I thought I was dead or in heav­en one. I didn't want to go back home. I want­ed to live in the Tur­bo Z and lis­ten to REO Speed­wag­on unable to fight this feel­ing any­more, to stay drunk all my life, to nev­er look in the rear view mir­ror. I want­ed to stay inside the girl, her arch­ing her back to my young quick thrusts before she spun me over and climbed on top and licked my left nip­ple. I was numb from booze and sex and when I came I told her I loved her but now I don't even remem­ber her name.
Nor do I remem­ber the house. Or where we were or what town we were in or how long ago, real­ly, that night has been. These are just the par­tic­u­lars of the case. The facts of the mat­ter. They don't real­ly tell you any­thing. My 27 year old uncle, feel­ing his youth slip­ping away, got his 14 year old nephew drunk and laid and I loved him for it. Just as I would love him the moment when, after the cops final­ly caught up and blue lights bloomed behind us, how for just a sec­ond I thought we might go, and keep going.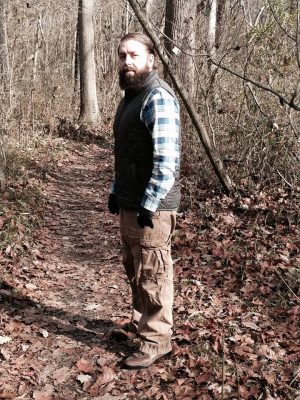 Paul Crenshaw's sto­ries and essays have appeared or are forth­com­ing in Best Amer­i­can Essays, Best Amer­i­can Non­re­quired Read­ing, The Push­cart Prize, antholo­gies by W.W. Nor­ton and Houghton Mif­flin, Glim­mer Train, Eco­tone, North Amer­i­can Review and Brevi­ty, among oth­ers. He teach­es writ­ing and lit­er­a­ture at Elon University.