Fran­cis Alexan­der Finch
tilts his plas­tic din­ner plate
against the hard light
of Hazel­ton Prison,
rea­son­ing the details
of his rape case and limiting
the move­ment of a single
black ant. His mother,
JoAnne Daphne Finch,
has exit­ed the grounds
and leans on the hood
of her blue Toy­ota, smoking
Kent men­thols. The dis­tant hills
are dis­as­ters for her,
the dusk wrings her thoughts
then spits them out.
What's the rea­son for this need?
It's a giv­en he'll grow gray
inside the walls, the gray walls
touched here and there
with graf­fi­ti. He'll meander
back to his cell for protocol,
Wheel of For­tune on a tiny screen,
the man in C‑212 screaming
obscene­ly all night.
There are demons,
there are fuck­ing wolves
in the con­crete. There are reasons
why Fran­cis Alexan­der Finch
shouldn't be here, but he is,
as he sep­a­rates the corn
and car­rots and celery
on his plas­tic din­ner plate.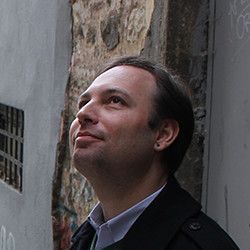 A native Ohioan, Carl Boon lives and works in Izmir, Turkey. His poems appear in dozens of mag­a­zines, most recent­ly Two Peach, Jet Fuel Review, Blast Fur­nace, and Poet­ry Quarterly.