Apache Springs the cross­roads was known as, and for miles around the land was called Apache Springs also. There was a sin­gle saloon at the cross­roads next to a board­ing house with its roof rot­ted from the night­ly urine of pros­ti­tutes that climbed up there and pissed beneath the moon. It nev­er rained in Apache Springs. There was nev­er a cloud in the sky. Because of this the pros­ti­tutes climbed onto the roof every night. Vis­i­tors began to take an inter­est. Eng­lish or French peo­ple they usu­al­ly were, spring or sum­mer­time cow­boys who always stopped at the saloon first to get prop­er­ly wasted.
Bug-Eyed Moth­er­fuck­er was one of these French­men. He spent a whole after­noon sip­ping rye whiskey and when he final­ly slipped into a good, moist stu­por he head­ed over to the board­ing house for some good, moist com­pa­ny. The woman only cost a sil­ver dol­lar because she had a shriv­eled leg, but Bug-Eyed Moth­er­fuck­er didn't mind. He said, "Bon­jour sexy," and then used her cane, a piece of desert wood, to beat her across the ass. When they had fin­ished and the pros­ti­tute was already climb­ing out of the win­dow and pulling her­self onto the roof with strong arms, Bug-Eyed Moth­er­fuck­er real­ized that his pis­tol was gone. It had been a gift from his late men­tor. They had been like father and son.
Bug-Eyed Moth­er­fuck­er ran back to the saloon and swung open the doors.
Some­one said, "Look at the bug eyes on that motherfucker."
Bug-Eyed Moth­er­fuck­er thought he saw the flash of his pis­tol's moth­er-of-pearl han­dle at a table in the back of the saloon. He had excel­lent vision. The fel­low sit­ting at that table was an Eng­lish­man. Bug-Eyed Moth­er­fuck­er swag­gered back there and said, "Mon pistolet!"
"My good man," said the Eng­lish­man. "I beg to differ."
Then the Eng­lish­man picked up the gun and shot Bug-Eyed Moth­er­fuck­er through the eye. He fell dead to the floor. "I apol­o­gise for the dis­tur­bance, every­one," the Eng­lish­man said. "Car­ry on."
Mean­while, the crip­pled pros­ti­tute of Apache Springs stood like a flamin­go on the roof of the board­ing house. She had been the one to take Bug-Eyed Moth­er­fuck­er's pis­tol, even though he had not sus­pect­ed her because of the shriv­eled leg, and now she was point­ing the pis­tol at the moon. She'd heard the oth­er girls call the moon beau­ti­ful but, to her, it looked like a pus­tule that need­ed to be popped.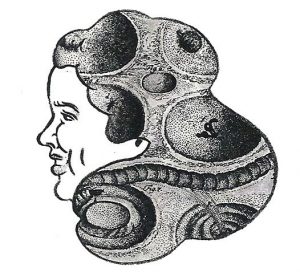 Wynne Hunger­ford has pub­lished work in Epoch, Talk­ing Riv­er Review, The White­fish Review, The South Car­oli­na Review, and The Week­ly Rum­pus, among oth­er places. She is an MFA can­di­date at the Uni­ver­si­ty of Florida.