Near­ly noon, on Thursday
late Octo­ber, and I see the trees
sway­ing with­in a wind that means
only business,
no fra­grant breeze
here, no idle
burlesque:
mere­ly rote
screams, blue note egress from boughs
with fore­sight and worse, they bite back the bark
in street light pos­es, they feel so much
bet­ter, much bet­ter come
the dark.
This time of year, this time
of life it breaks
down the anger, ache by ache, cold moan
in the heart attack
eaves, but maybe you know it
by now, too? by God
we must not feel so sorry
for those leaves, in free
fall, going to a place that gets
umber, then full
on, naked in a month: Winter
is the rud­dy face of a poet
at sixty…
Or the ticking
of radiators
in my youth, they run on
steam,
sticky sheets left
oblit­er­at­ed in the mid­dle of the poster bed
of those wel­fare hotels, I'd check in
for kicks only, sucked off
dry by the usu­al specters, too many raven-haired sins
to enu­mer­ate them
now,
down the block, some bloke fires up his chain saw,
and back in my brain, the fat Irish bard
in green felt der­by hat: … Let it go, boyo … But oh
to antic­i­pate the wood smoke, arriv­ing soon
in a kind of uni­son, dou­bles as an astral
sob; now it's about half
past noon.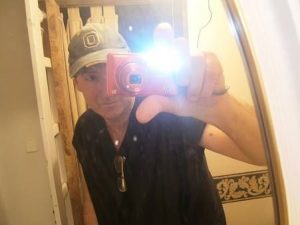 Den­nis Maha­gin is the author of two poet­ry col­lec­tions: "Grand Mal" from Rebel Satori Press (https://​www​.ama​zon​.com/​G​r​a​n​d​-​M​a​l​-​D​e​n​n​i​s​-​M​a​h​a​g​i​n​/​d​p​/​1​6​0​8​6​4​0​515) and "Long­shot & Ghazal"from Mojave Riv­er Press: http://​pre​mi​um​read​ing​.com/​c​o​n​t​e​n​t​/​u​n​b​e​l​i​e​v​a​b​l​e​-​l​o​n​g​s​h​o​t​-​g​h​a​z​a​l​-​d​e​n​n​i​s​-​m​a​h​a​g​i​n​-​o​n​l​i​n​e​-​get. Den­nis is also the poet­ry edi­tor for the online mag­a­zine, FRiGG. He lives in south­west­ern Montana.