Have you seen my blue-eyed goose? He asks.
He keeps one among the reg­u­lar geese
in the grain room of his grandfather's barn,
where they honk like bro­ken trum­pets as we approach.
There are six, though you can't count these beaks, wings, crooked necks,
all crushed in a cor­ner, bleating.
He enters, while I abstain behind the chick­en wire door.
He yokes his arms around a goose, and sep­a­rates her.
They quiet—a brash hush.
I see what he wants to show me:
how he exhibits the one whose pupil
is encom­passed with the col­or of a rare, pale jewel.
Blue as the atom­ic scientist's iris,
as any clear sky, fall morning.
Adren­a­lin sluices our blue veins.
Are you ner­vous? He asks, carefully.
I don't say I'm afraid
any god is a bomb.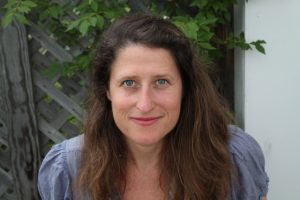 Julia Ship­ley is the author of The Acad­e­my of Hay (Bona Fide Books, 2015) and Adam's Mark (Plow­boy Press, 2015) as well as some chap­books: One Ton Crumb, First Do No Harm, Plan­et Jr. and Herd. Her work can also be found in 5 x 5, Barn­storm, Bar­rel­house, Burn­side Review, Cincin­nati Review, Col­orado Review, North Amer­i­can Review, Poet Lore, Poet­ry, Prairie Schooner (online) and ter​rain​.org. She lives on a home­stead in the boon­docks of North­ern Ver­mont. Her web­site is www​.writin​gonthe​farm​.com