These notes may be late to the par­ty, but I just got this first review in my email via Google Alert. It's dif­fi­cult to believe this descrip­tion of the movie Winter's Bone, based on the nov­el by Daniel Woodrell, has any­thing to do with real­i­ty. Prairie Miller seems off­base. I have not seen the film yet, but her review seems to come with bag­gage as well as sim­ple mis­takes. See for your­self:
If then pres­i­den­tial hope­ful Oba­ma insti­gat­ed con­tro­ver­sy about red state rur­al life that he noto­ri­ous­ly char­ac­ter­ized as bit­ter prim­i­tives cling­ing to reli­gion and guns, then the drea­ry Ozarks out­ing Winter's Bone adds plen­ty of insult to injury. A near­ly anthro­po­log­i­cal con­temp­tu­ous take on the already broad­ly car­i­ca­tured and bare­ly com­pre­hend­ed so-called hill­bil­ly cul­ture, the film is set apart only by its melo­dra­mat­ic rather than satir­i­cal approach.

Seem­ing­ly set for release on the suc­cess­ful coat­tails of that oth­er like­wise Sun­dance award win­ner ven­ture in exploita­tive under­class tabloid cin­e­ma, Winter's Bone plays out like a seedy and no less cyn­i­cal white trash ver­sion of Pre­cious. Direct­ed and co-writ­ten by NYU schooled Debra Granik with a dis­tinct out­sider-look­ing-in per­spec­tive as if from anoth­er plan­et, the film plods along in a self-seri­ous seden­tary funk, with the char­ac­ters hav­ing lit­tle to say beyond what we've heard in SNL skits and sim­i­lar stereo­typ­i­cal fare, many times before.

Jen­nifer Lawrence as the sole mul­ti­di­men­sion­al char­ac­ter breath­ing life into this tedious back­woods trav­el­ogue, is Ree Dol­ly, a sev­en­teen year old hold­ing her dis­in­te­grat­ing fam­i­ly togeth­er. Dad is a coke­head felon fugi­tive who put their home up as col­lat­er­al for bail, and the author­i­ties are about to take the prop­er­ty over and evict them. So Ree des­per­ate­ly divides her time as sole care­giv­er for her younger sib­lings, and search­ing for her way­ward par­ent to stall the evic­tion, while a bare­ly seen or heard mom is pret­ty much a stay at home zom­bie. There's also an assort­ment of snarling, moron­ic red­neck rel­a­tives, sub­mis­sive women who would nev­er dream of talk­ing back to the men­folk, and unneigh­bor­ly varmints run­ning inter­fer­ence on Ree's quest, pro­vid­ing her with false leads when not sim­ply beat­ing her to a pulp.
I have read Winter's Bone sev­er­al times, and it's dif­fi­cult to believe the film­mak­ers would shod­di­fy the mate­r­i­al as bad­ly as she says. I also mis­trust her on basic issues. In ref­er­ence to "cook­ing coke?" If you cook coke, does it not turn into crack? Uh, maybe she means meth? Cer­tain­ly the nov­el doesn't men­tion crack or coke, only meth (I just checked). I looked around, though, and found anoth­er review by John DeFore that seems more bal­anced.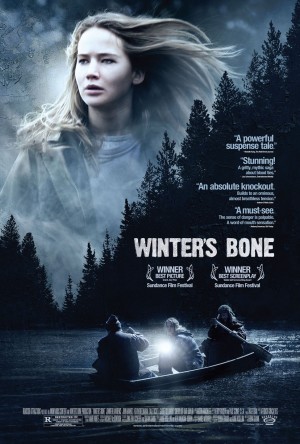 PARK CITY — Six years after win­ning an award here for "Down to the Bone," direc­tor Debra Granik returns to Sun­dance with her fol­low-up, "Winter's Bone," a grim sto­ry of per­sis­tence set deep in the Ozarks. Slow to get going and uningra­ti­at­ing, the film will be a hard sell at the box­of­fice, but its grit and the tenac­i­ty of its young hero­ine will res­onate with some viewers.

That hero­ine, a high-school­er named Ree Dol­ly (Jen­nifer Lawrence), faces a cri­sis much like that in "Frozen Riv­er": A man, in this case Ree's father, has van­ished owing debts that put her home in jeop­ardy. With two younger sib­lings and a bare­ly-sen­tient moth­er to care for, her only option is to scour the back­woods, search­ing for Dad among the not-dis­tant-enough rel­a­tives who (lit­er­al­ly and fig­u­ra­tive­ly) lit­ter the coun­ty, and whose crim­i­nal oper­a­tions like­ly have some­thing to do with his disappearance.

"Bone" doesn't sup­ply the same kind of role for Lawrence that Melis­sa Leo got in "Riv­er": Ree's options, stop or keep going, are less dra­mat­ic than Ray Eddy's even when con­tin­u­ing her search means talk­ing to volatile peo­ple with things to hide. For much of the film, as Ree feeds the fam­i­ly with hand-me-down gro­ceries and teach­es the kids to hunt squir­rel, Granik seems to believe it's impres­sive enough that she sim­ply con­tin­ues to sur​vive​.As the action picks up — with some crone-like fam­i­ly gate­keep­ers giv­ing Ree a beat­ing in hopes of scar­ing her off — the strong pres­ence of John Hawkes (as the van­ished man's drug-addict­ed broth­er) keeps the bleak set­ting from over­com­ing the movie and gives Lawrence a bit more to play against.

Even­tu­al­ly, even when she's being con­trolled by events instead of vice-ver­sa, Ree proves wor­thy to the chal­lenge around her. Whether she'll escape her grim sur­round­ings or sim­ply endure them isn't a ques­tion "Winter's Bone" intends to ask.
The film won best screen­play and best pic­ture at the Sun­dance Film Fes­ti­val, too, which prob­a­bly does noth­ing for its via­bil­i­ty in the mar­ket­place, but implies that Prairie Miller might be in the minor­i­ty. I know I'll be see­ing it as soon as I can.