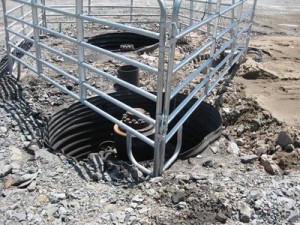 And here's why. This is from the Key­stone Edge site, a seem­ing­ly rep­utable out­fit cov­er­ing eco­nom­ic change and oth­er pro­grams in cer­tain area of MI and PA.
Some drillers, includ­ing Range Resources and Chesa­peake Ener­gy, are sim­ply reusing their water. By the end of last year, Range was recy­cling all of its "pro­duced" water, or the liq­uid that flows up in a well that's pro­duc­ing gas after the frac­tur­ing process. Chesa­peake recent­ly announced its Aqua Renew pro­gram, an ini­tia­tive to recy­cle all of the water the com­pa­ny uses in the Mar­cel­lus (). Already, that process is reusing 4.3 mil­lion gal­lons a month.
Seems like a good thing, reusing 4.3 mil­lion gal­lons of water, right? Until you find out, in Chesa­peake Energy's own presskit, that 4.3 mil­lion gal­lons is less than minis­cule. That amount won't even hydrofrack one well. See my cut below, empha­sis mine.
And, if you fol­low the mon­ey trail left by this seem­ing­ly innocu­ous arti­cle, this is what you find. Key­stone Edge is one of many sites owned by
Issue Media Group
, who received fund­ing for Key­stone Edge from
The Team Penn­syl­va­nia Foun­da­tion
, a com­pa­ny with investors of many kinds. Among them, com­pa­nies like Alleghe­ny Ener­gy, Brad­ford Ener­gy Com­pa­ny Inc., Con­sol Ener­gy, First Ener­gy, etc., with some water-pro­cess­ing equip­ment sales and engi­neer­ing firms mixed in. No
won­der
the drilling seems so nec­es­sary and right and good.
By the way, Chesapeake's reusing 4.3 mil­lion gal­lons a month. Bul­ly for them. How many wells are in Brad­ford Coun­ty? 853, by the government's count, of which 201 are Chesa­peake wells (see here for details).Which makes, um, 1,105,500,000 gal­lons used to frack for Chesa­peake alone. And they talk of sav­ing 4.3 mil­lion as if it's any­thing more than the lit­tle old lady piss­ing in the sea.
Make no mis­take, most of the rest of that water is end­ing up in trout streams, wells, rivers, and unsight­ly open pits, wait­ing for recla­ma­tion. Read this arti­cle for a bit of the oth­er side.