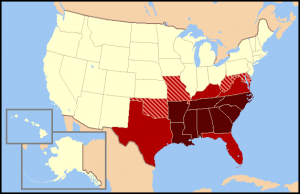 Chris Tusa thinks so, and makes his case in the Spring 2011 issue of Sto­ry South.
Any­one who's spent any length of time liv­ing in the south knows that his­to­ry is impor­tant to us. In the south, we cling to words like "tra­di­tion" and "her­itage." If you search the term "Deep South" on Wikipedia, you'll find head­ings like His­to­ry, Civ­il War, and Recon­struc­tion. The recent debate con­cern­ing the Con­fed­er­ate bat­tle flag only fur­ther demon­strat­ed this, imme­di­ate­ly prompt­ing the con­struc­tion of south­ern-based web­sites with titles like "Pre­serv­ing the South­ern Her­itage" and "His­to­ry not Hate."

So why is this? Why, as south­ern­ers, are we so obsessed with the past? Is there some­thing hid­den in our red­neck genes, some­thing wrig­gling deep in our south­ern-fried DNA that caus­es us, as south­ern­ers, to cling to the past? One answer might be that as south­ern­ers we are so obsessed with the past that we sim­ply aren't inter­est­ed or con­cerned with exam­in­ing our present or our future. Some might even argue (most­ly north­ern­ers I pre­sume) that it's pre­cise­ly this kind of back­ward think­ing, this con­stant look­ing to the past, that has led to the south's obvi­ous lack of progress, espe­cial­ly in terms of edu­ca­tion, pol­lu­tion, unem­ploy­ment, and pover­ty. Regard­less of your opin­ions one way or the oth­er, it's dif­fi­cult to ignore the fact that these days young south­ern writ­ers seem inex­orably drawn to the south's past, rather than its present. Over and over, young con­tem­po­rary south­ern writ­ers seem much more con­tent to drudge knee-deep through the south's bloody his­to­ry than explore its present. And, when they aren't explor­ing the south's past, they seem much more com­pelled to rewrite great south­ern lit­er­ary tra­di­tions than explore the south's present, or even its future for that mat­ter. Who can for­get Susan Lori Parks' won­der­ful trib­ute to Faulkner's As I Lay Dying or Alice Randall's rethink­ing of Mitchell's Gone with The Wind. Don't get me wrong. These are all won­der­ful­ly cre­ative and skill­ful books, but as a south­ern writer in my thir­ties, I can­not help but won­der why such writ­ers aren't as equal­ly con­cerned with exam­in­ing the south's present. More.
I think Tusa's essay (by the way, I read his book Dirty Lit­tle Angels and real­ly liked it) hits me in some ways–the search for the new, how­ev­er you find it, and in what­ev­er time period–ought to be a pri­ma­ry goal of good region­al writ­ing, for instance. Not being from the South myself, I feel hes­i­tant to say what I think of the thing in its entire­ty except to list books and writ­ers I've read that argue against his view–Silas House's Clay's Quilt, the sto­ries of Paula K. Gov­er, who no one seems to care about but me, Amy Greene's Blood­root and so many more–doesn't real­ly address the point. There are oth­er names I could add and antholo­gies and books clos­er to home and among my friend­slists I could sug­gest, but I see his point over­all and don't want to dis­tract, though my instinct is to kick against the idea. I do think Tusa could expand his read­ing, though.
I apol­o­gize if the rest of you saw this essay already, but I thought it worth men­tion­ing here. I'm away from the com­put­er for a few days and so won't approve com­ments until prob­a­bly Sat­ur­day or so, but have at it if you like and I'll do the best I can to approve quickly.
.