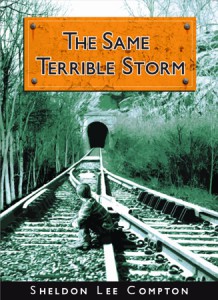 One of the ways I judge my fic­tion is by its rel­a­tive verac­i­ty. It bugs the hell out of me when writ­ers get easy things wrong: gun details, car details, wildlife, you name it. In Shel­don Compton's The Same Ter­ri­ble Storm is that there's nev­er a mis­step, nev­er even an implic­it hes­i­ta­tion. With all the details in place, the sto­ries have room for lan­guage, plot, and char­ac­ters to move in ways unusu­al and fine.
Take "First Timers," for instance, a short and sharp piece from the book's middle.
The guy behind us, stand­ing with Josh, looks like he just walked out of a tree and turned to rock. It's Hank, Amy's dad. I fig­ure if he stood by the fence and the pen, he'd blend into the wood (56).
Qui­et­ly, these few words do a great deal of work for the sto­ry. The sto­ry begins with a few young men (I'm guess­ing late ado­les­cence, since it's not made explic­it) speed­ing down a road while hung over, it's the appro­pri­ate place for the young ones to begin to get their come­up­pance. It's safe to say none of them would look as if they'd walked out of a tree and turned to rock; they won't be threat­en­ing Hank for primacy.
The two brief scenes in the full sto­ry high­light the dif­fer­ence between the nar­ra­tor and his bud­dies. They play at being hardass­es by drink­ing and think­ing, more or less. Josh is "soft as a couch cush­ion" com­pared with Hank, even as he holds a shot­gun and shells in readi­ness to do the pig in. Almost need­less to say, Josh can't do it, and the plot turns to Hank and our sure­ty that he will be able.
Compton's skill in bring­ing life to char­ac­ters via the small and telling detail is superb. In near­ly every sto­ry here, no mat­ter the mode, third per­son, first per­son, omni­scient or not, the plot ris­es and falls from those char­ac­ter details, and not by the engine of a cocka­mamie tacked-on plot.
Sheldon's a friend of mine, so in the end this is an appre­ci­a­tion real­ly, not a review. I am pos­i­tive­ly gid­dy to see what he can do with­in the con­text of a nov­el, which I know will come soon­er than lat­er. This is an excel­lent col­lec­tion, though, worth your time and hard-earned mon­ey. Send me a mes­sage at proprietor@​friedchickenandcoffee.​com with The Same Ter­ri­ble Storm in the sub­ject line, and I'll send the first two peo­ple who respond a copy of the book for their very own.