In 1977 Huck­le­ber­ry Finn top­pled into a salt water pit, reach­ing for the cap that had dropped off his head as he stooped over while attempt­ing to catch a bull­frog with his bare hands and Tom Sawyer reached down from the bank and pulled him from the taint­ed water. Or was it the oth­er way around? The blue cap read "Lester Pfis­ter Seed Corn" and both boys were ten and the boy who had fall­en in could not yet swim. So that must have been Tom Sawyer.
They were neigh­bors, with Tom liv­ing on a grain farm with his uncle and aunt, Silas and Sal­ly Phelps, while Huck stayed at his dad's old house though his father was rarely there and when he was home he was bit­ter and cussed and hit Huck with the fore­arm crutch­es he used to walk because of the polio that had plagued him since before time. Tom helped his aunt and uncle in their gar­den and even­tu­al­ly joined 4‑H though his aunt nev­er allowed him to bring Huck along when the fam­i­ly trav­eled to the Ducoin State Fair in August.
The boys rode an ancient Blue-Bird school bus an hour to school and then rode the same route in reverse on the way back home. The sun shined hot through the side win­dows of the bus and made the boys sleepy though they still wres­tled and joked around in their assigned seats and one day when they rode the bus across the low-water bridge they wit­nessed a truck dri­ver dump­ing salt water into the riv­er, right where they some­times refilled their can­teens on their hik­ing and fish­ing excursions.
When they weren't in school or doing chores they explored the remain­ing woods, those woods not yet pil­laged by farm­ers and devel­op­ers. They walked, then biked, then lat­er rode Hon­da three-wheel­ers down trails and lease roads, across fields and some­times into town to buy sodas and cig­ars and Hawken chew­ing tobac­co at the gas sta­tion on the high­way. Often they would see the man every­one just called Wal­ter, who had been arrest­ed for win­dow peek­ing sev­er­al times, using the out­side pay­phone though he was nev­er talk­ing, mere­ly lis­ten­ing, scratch­ing his gray whiskers and wip­ing his nose on the sleeve of his filthy shirt or jack­et, depend­ing on the sea­son, but no mat­ter what the weath­er Wal­ter always sat astrad­dle of his bicy­cle. And usu­al­ly when Wal­ter encoun­tered teenage boys he ped­aled away quick­ly to avoid their ver­bal abuse and the occa­sion­al rock or bottle.
The boys fished every farm pond and every good camp­ing spot on the riv­er that slid by their home­town and down along their rur­al neigh­bor­hood, although when­ev­er Huck and Tom tres­passed on Fred McDougal's land, the farmer who owned and farmed most of the land in the coun­ty, they were more cau­tious and always dou­ble-checked to make sure they left no signs of them ever being there.
In the fall and win­ter they coon hunt­ed with Huck's dog Rock­ford until Huck's dad took Rock­ford hunt­ing while Huck was asleep and the hound fol­lowed a coon across Route 50 and was killed by a pass­ing semi.
In the spring the boys hunt­ed mush­rooms in the woods along the riv­er and every year Huck got poi­son ivy on his legs and fin­gers. Or was that Tom? In the woods they car­ried emp­ty bread sacks to fill with mush­rooms, sneak­ing onto McDougal's prop­er­ty for those big morels, and one year they grew thirsty as they bicy­cled back up the road and stopped to refill their can­teens at the church on the coun­ty line where Tom attend­ed ser­vices with his fam­i­ly though Huck had nev­er been inside and in the base­ment they dis­cov­ered sug­ar and pack­ets of cher­ry Kool-Aid and mixed up a pitch­er using water from the faucet. Then a few weeks lat­er the school bus broke down and those kids who lived rel­a­tive­ly close got off and walked home, traips­ing past this church, and when Tom sug­gest­ed they go inside and make some Kool-Aid the old­er kids said, "Don't you pay atten­tion in church? You're not sup­posed to drink that water. Some kind of chem­i­cal run-off from Fred McDougal's fields ruined the well."
They fished all spring and sum­mer and squir­rel hunt­ed in the fall and when they dis­cov­ered the oil field tank truck down by the low-water cross­ing, dump­ing salt water into the riv­er then reload­ing with fresh water — though there were two signs stat­ing, "No load­ing or dump­ing water" — they wait­ed in the weeds like snipers and after the truck dri­ver stashed the intake hose under the edge of the decrepit and unus­able iron bridge the boys blast­ed that long black rub­ber tube full of holes.
They fished con­stant­ly and hoard­ed pack­ets of salt from restau­rants in town and used the salt to sea­son chan­nel cats they caught and cleaned and rinsed in the same water from which they had been tak­en and roast­ed the fish on sharp­ened sticks, foil-wrapped pota­toes bak­ing in the coals of their fire.
They fished non-stop in good weath­er and at four­teen knew every­thing. They knew Wal­ter was a per­vert and a win­dow-peek­er but more than like­ly posed no threat to them. They knew Fred McDou­gal to be a coun­ter­feit-Chris­t­ian who would do any­thing for a dol­lar. They knew Becky Thatch­er was pret­ty and kind and tru­ly reli­gious but Amy Lawrence was much more fun to take into the trees at the edge of the park at night dur­ing the Fall Fes­ti­val. They knew every­thing about every­thing until they brought up the day's last trot-line, the riv­er water like choco­late milk, and they saw the evil mys­tery fish snagged on a 5⁄0 hook, crawdad's tail hang­ing out one side of his mouth like Castro's cig­ar. Huck stead­ied the boat while Tom lipped the fish as one would a bass — or did Tom steer the boat while Huck removed the fish? — but this beast sank his fangs deep into the fish remover's thumb. Their lit­tle jon­boat rocked and jerked and six eyes grew wide and a pre­vi­ous­ly caught bull­head flopped over the tran­som. And so they stashed their holey boat, ban­daged the hand with an oily rag, and bicy­cled out of the riv­er bot­toms with that mys­te­ri­ous evil fish and five cat­fish, twist­ing on a stringer tied to the han­dle­bars, col­lect­ing dust and flop­ping less the fur­ther they ped­aled up the path. When Uncle Silas met them on the coun­ty line he said, "That's a gren­nel. They ain't good for noth­in. Huck, your dad's gonna be in jail quite a spell this go round. You're prob­a­bly gonna have to go stay with your aunt in town."
So Huck had stayed with his aunt occa­sion­al­ly though he often slipped out and stayed at his dad's old house, alone but com­fort­able, and when he did stay in town he would get up ear­ly and wait for the bread man to leave his truck unat­tend­ed behind the gro­cery store and then Huck would snag one or two box­es of donuts for Tom and his oth­er friends at school. Then at noon he would walk up town and spend his lunch mon­ey on two-cent pieces of green-apple gum and var­i­ous fla­vors of nick­el Jol­ly Ranch­ers, sell­ing most of it lat­er back at school for a dime or some­times a quar­ter apiece to any kid with a sweet tooth and cash.
Huck smoked weed with the old­er kids in the park while Tom took sports too seri­ous­ly and hung out with the jocks but the boys main­tained their friend­ship and Huck often rode his three-wheel­er to Tom's house and once when Huck was kicked back on Tom's bed, read­ing a fish­ing mag­a­zine, wait­ing for his friend to fin­ish the put­ter-but­ter and jel­ly sand­wich­es they were tak­ing with them fish­ing, Tom's Aunt Sal­ly stepped out of the show­er and into the hall­way, think­ing she had the house to her­self, and Huck saw her in all her glo­ry as she strolled down the hall­way naked, and after­ward he liked her much more and was even more polite to her though he knew he was still not one of her favorite people.
And lat­er when they got their driver's license the boys roamed the coun­try roads in the dark­ness. In 1983 large coons would bring twen­ty to thir­ty dol­lars at the fur buy­ers, even road kill coons if the fur was not dam­aged, so they cleaned the roads of any car­cass worth sell­ing. Then when muskrats invad­ed the riv­er and began to destroy the riv­er banks and the large lev­ee around the near­by fields the boys began trap­ping muskrats and sell­ing them for eight bucks apiece. The farm­ers who owned the acres inside the lev­ee praised the boys and thanked them and gave them per­mis­sion to hunt and fish and what­ev­er else they want­ed. So every morn­ing at day­light the two boys, both juniors in high school at this point, made their way along the top of the lev­ee, down the rough nar­row trail that seemed to con­sist entire­ly of lime and mud and relent­less thorn bush­es. And even though Huck was against it, when Fred McDou­gal flagged them down, want­i­ng them to trap the rats on his prop­er­ty adja­cent to the lev­ee Tom agreed.
One par­tic­u­lar Wednes­day morn­ing the taller of the boys car­ried two muskrats in each hand, his blond hair blow­ing in the cold wind where it flut­tered down past his brown sock cap. Thorns and bris­tles scratched against his cov­er­alls and hip-boots. The oth­er boy wore stained and fad­ed over­alls and a heavy tan coat with a long tear across the shoul­der where red insu­la­tion peeked through, three muskrats in each of his hands. A black cap cov­ered his scrag­gly brown hair and the bri­ars clung to his clothes and vines laced around his thigh-high rub­ber boots and when they reached the place where they usu­al­ly descend­ed into the woods onto the trail that led to Tom's truck Huck said, "Wait up."
The teenag­er dropped the wet rodents and retrieved a pint bot­tle of Jim Beam from his hip pock­et and took a swig. The whiskey glugged with­in the clear glass then warmed his chest.
"Give me a shot of that," Tom said. He tossed down his dead rats, wiped his hands across the back­side of his cov­er­alls and took the bottle.
White rib­bons of clouds streaked the gray sky and though it was sev­en o'clock in the morn­ing the sun was nowhere to be seen on the murky hori­zon. Even the birds remained qui­et and after anoth­er quick drink the boys moved on toward the rusty blue 4×4 Chevy that sat parked on a dirt road a quar­ter mile into the trees, their crunch­ing foot­falls the only noise in the cold soli­tude of the woods.
They tossed the ani­mals in the bed of the truck among five oth­er muskrats and shucked out of their over-clothes and trad­ed the rub­ber boots for ten­nis shoes. Then Tom stuffed his trap­ping attire into the front cor­ner of the truck bed before he hopped in, fired up the motor, and flipped on the heater and the radio. After a quick weath­er report the DJ spun Cen­ter­fold by The J. Geils Band and Tom said, "Have you seen this video?"
"I don't guess so. Do they play it on chan­nel 13?" Huck took anoth­er drink of the whiskey then tucked the pint bot­tle deep into one rub­ber boot.
"I doubt it. Me and Becky saw it in town there at Willie Temple's the oth­er night. They got cable, ya know."
"Willie Tem­ple?" He rolled up his over­alls and stuck them in the floor­board beside his boots, then climbed up in the 4×4 and slammed the door. "What was you doin at that peckerhead's house?"
"His folks were out of town so he had a lit­tle par­ty. No big deal. Just a pony-keg. We just stopped in for a lit­tle while." When Huck said noth­ing Tom said, "I bet you'd like that video."
Both boys had got­ten their hands wet ear­li­er, set­ting the muskrat traps under water, and though their hands were now dry they remained dark red and painful­ly cold, as were their feet. Huck leaned for­ward and held his hands over the warm air from the defroster vents in the dash as they drove out of the woods.
"So when are we gonna go sell that fur?"
"Well, I can't today," Tom said. "I got­ta take Becky to Eff­in­g­ham after school. You wan­na go sell it?"
"I'm not sure when my aunt'll get home with the car," Huck said. He gazed out the filthy pas­sen­ger win­dow at the bleak mud­dy fields and the leaf­less trees. "She don't real­ly like me haulin dead stuff around in her trunk anyway."
When they reached Huck's dad's old place they tal­lied up their take out in the garage. Tom said, "Well, let's see. If old Muff gives us the same price as last week we'll have twen­ty-three muskrats at eight bucks." He found a small scrap of paper and an old ink pen on the oily dis­as­ter of a work bench and after swirling the pen around a few times to get the ink flow­ing he mul­ti­plied the price by the ani­mals. "One eighty-four. And then ten coons at — say, twenty-five."
"He ain't gonna give us no twen­ty-five dol­lars for those run-over coons."
"They ain't too bug­gered up. But let's just say, sev­en coons at twen­ty-five and then maybe twelve bucks for those others."
"He prob­a­bly won't even buy that possum."
"Oh yeah Huck, they get five or six bucks out of em. And he might give us thir­ty for a cou­ple of those big coons." He fig­ured on the paper then said, "We might get a cou­ple hun­dred bucks apiece."
"That'd be handy," Huck said.
After hang­ing his boots and over­alls on a hook in his dad's old garage Huck hopped in with Tom and the boys hit the road again. Fif­teen min­utes lat­er when they reached the city lim­its Huck said, "Run up by the gro­cery store so I can get a Mt. Dew."
"Hang on. I got­ta swing by and pick up Becky. Then we'll all stop and get a drink."
"So you and Amy Lawrence are done with, huh?"
"Oh yeah. Me and Becky are the real deal. I'll prob­a­bly end up mar­ryin that girl one of these days."
"Good luck with that." Huck had no inter­est in Tom and Becky's love life though he had been con­tem­plat­ing Amy Lawrence more and more all the time.
They took a left on Jef­fer­son Avenue and when they pulled up into the yard at Becky's house she imme­di­ate­ly stepped out­side in her brown suede coat and pink stock­ing cap and gloves, books clutched tight­ly against her chest. Her father the judge stepped out on the porch and waved to them in the truck and they waved back.
Both guys opened their doors but she walked around and climbed in on the driver's side and she and the dri­ver kissed. "Hey, Huck," she said to the passenger.
"Hey there," he said.
As they turned back onto Main Street Tom squirt­ed some win­dow wash­er flu­id on the wind­shield and the dried mud streaked and smeared and grew much worse before it final­ly got a lit­tle bet­ter but before Becky could com­plain about not see­ing the road Tom said, "You sure smell good today."
"Thanks," Huck said.
"I meant her perfume."
"Thank you," she said then wrin­kled her nose. "But some­thing def­i­nite­ly reeks in here. What is that?"
"It's Huck's aftershave."
"That's bull­shit. I don't even wear aftershave."
They all three laughed and Huck said, "Real­ly, it's that coon scent we use to cov­er up our smell." He pulled a tiny round glass bot­tle from Tom's glove com­part­ment. "Here, try a little."
Becky pushed his hand away and said, "Don't you even open that while I'm in here." Her blond hair was pulled back and she wore Tom's class ring which she had resized by wrap­ping blue yarn around the side oppo­site the azure stone. She said, "Ya know, that smells just like Study Hall did last week. Like some­one poured some of that nasty stuff down in the heat reg­is­ter or something."
"I wouldn't know noth­in bout that," Tom said. He parked on the street in front of the gro­cery store and the guys bought Mt. Dews from the machine. A few kids they knew cruised by and honked and across the street a few under­class­men hun­kered down in their coats and trudged south down the side­walk toward the school, book-bags in hand.
Becky said, "What are we doing this week­end, Tom?"
"Don't you remem­ber? Me and Uncle Silas are goin deer huntin down south in Pope Coun­ty. I been tellin ya for a month now."
"Well crap," she said. "I want­ed to go see An Offi­cer and A Gen­tle­man at the movies." She sipped her soda. "Maybe I'll just get Huck here to take me."
"He's prob­a­bly got oth­er plans."
Huck said, "Hope­ful­ly."
By late Sat­ur­day after­noon the tem­per­a­ture had risen to 47 degrees but a fog set­tled over the land­scape and the air hung damp and sur­re­al. After his aunt left her house with her new boyfriend Huck loaded the coons and muskrats into the trunk of her old car, leav­ing the run-over pos­sum to lie beside the conibear traps they had tak­en up Fri­day morning.
Then he took a show­er before dri­ving south-east to Potter's Fur Shed which sat way back in the riv­er bot­toms but up on a high bluff so that even though the dri­ve­way flood­ed almost every time it rained no water ever reached the build­ing. Huck wore his new gray boots and blue jeans and a black west­ern shirt under his den­im jack­et and his hair was still damp and combed in place when he stepped into Muff Potter's amid the dis­plays of rub­ber boots and over­alls and hunt­ing coats and knives and traps and calls and scents and lures and an out­ra­geous­ly huge bear trap lean­ing in one cor­ner just for show.
Behind the desk old Muff, deep in con­ver­sa­tion with a rough look­ing coon hunter, stopped him­self in mid-sen­tence and said, "Good Lord. Look at that." He slurped cof­fee from a heavy ceram­ic cup. "You got­ta hot date tonight, Mr. Finn?"
"Not real­ly. Just takin some­body to see a movie here after­while." The room smelled of raw flesh and musk and new rub­ber boots. "I got some coons and rats out in the trunk for ya."
Muff said, "A movie? Well, my land. Now don't you go han­dlin that fur. You'll get your­self all greasy."
He pushed back from the desk and as if on cue the rough look­ing guy dis­ap­peared behind the cur­tain that divid­ed the office from the skin­ning room.
"You been deer huntin, Huck?"
"Naw, Tom went down south huntin with his uncle. I just been busy helpin one of my neigh­bors feed hay. You go?"
He point­ed to the orange pin on his hunt­ing cap. "Killed out this mornin."
"Get a big buck?"
"No, I shot a young doe. But she'll be bet­ter eatin anyway."
Muff fol­lowed Huck out­side to study the ani­mals in the trunk. There were splotch­es of blood and fat on his Carhartt jack­et, the cuffs of his gray work pants tucked half-heart­ed­ly into his black engi­neer boots.
"Boy, you and Tom sure been busy, ain't ya?" he said. He heft­ed a few of the larg­er coons and brushed their hair back and held them out at arms length and then he blew a part into the fur of a few of the muskrats, as if mere­ly a formality.
He inspect­ed the road kill coons a lit­tle more close­ly then scratched his chin stub­ble. "Tell ya what. I'll give four hun­dred for the whole lot. How bout that?"
"How bout four-twen­ty-five?" Huck asked.
Muff smiled. "How bout three-seventy-five?"
"I guess four hundred'll be alright." He fol­lowed Muff back inside. A young man, not much old­er than Huck, in greasy blood-streaked over­alls and a flan­nel shirt with the sleeves rolled up car­ried the fur in from the trunk to the skin­ning room.
"So, is this young lady you're takin to the pic­tures some­one spe­cial or just a passin fancy?"
"Oh, I don't know." He cleared his throat as Muff brought out his check­book. "Think you could make it out for three-fifty, then just give me fifty in cash?"
"I don't think that'd be a prob­lem." He smiled and hand­ed over the long blue check and then removed a fifty from his ragged bill­fold. "Now you kids have a good time at your picture-show?"
That Sun­day evening when Tom returned from deer hunt­ing with his uncle he imme­di­ate­ly drove to Huck's dad's old place where he found his friend watch­ing a black-and-white tele­vi­sion and eat­ing Vien­na sausages out of the can.
"Get a deer?"
"Shot a but­ton buck," Tom said. "Here's some pictures."
Huck picked up the Polaroids and flipped through images of Tom squat­ted down beside the deer in the bed of the pick­up, his cousin Sid smil­ing with his nine-point buck.
"Them deer's hangin down there in the shed if ya wan­na go see em."
"Maybe after this movie's over," Huck said.
"You get that fur sold?"
"Yeah, got four hun­dred even. We'll have to cash the check tomor­row but I had Muff give me fifty in cash so I'd have a lit­tle spendin money."
Tom plopped down in the only oth­er chair in the run down liv­ing room. "So what all did you do this weekend?"
And so Huck told Tom about tak­ing Amy Lawrence to the movies, leav­ing out most of the film's plot and how he spent too much on sodas and Twiz­zlers and Bot­tle­caps. He skipped to the part about get­ting some wine from Old Joe out­side the tav­ern and dri­ving around in the riv­er bot­toms with Amy.
"I didn't even know she drank wine," Tom said.
"We had a pret­ty good time, I guess." There had been a Cheech & Chong and a Richard Pry­or and a few oth­er movies play­ing that Huck would have much rather seen than An Offi­cer and a Gen­tle­man but that was the film Amy had want­ed to see so that was the one they watched.
Huck said, "Lat­er when we was dri­vin around we found an old lease road that goes back in behind the lev­ee. Back on McDougal's land. There's a lit­tle low-water crossin there too, so we can use it to get across the riv­er down there."
"No way."
"I'll take you down there tomor­row after school when we put the traps back out. You are givin me a ride to town in the mornin, ain't ya? I took my aunt's car back to her house last night after I took Amy home, then just rode my three-wheel­er back out here."
"Well, I am sup­posed to take Becky to Flo­ra tomor­row but we do need to get those traps back out."
"Yep," Huck said, think­ing to him­self, that girl always needs to go some­where. He guz­zled a can of pop and then tried to get the tele­vi­sion sta­tion to come in bet­ter by adjust­ing the rab­bit ears.
"Me and Uncle Silas stopped in up there at the gas sta­tion on the way back into town — he gassed up my truck since we drove it down there huntin — and them guys in there was sayin there's been some more break-ins here late­ly. Ben Rogers' dad had a bunch of tools stoled out of his shed and then old what's‑his-face over there by Wilcox Bridge had a three-wheel­er and some chain­saws ripped off."
"Yeah, I heard about that," Huck said.
"I heard they's try­ing to blame Wal­ter but I don't know."
"Now where would Wal­ter hide that stuff? In his lit­tle room there behind the Laundromat?"
"That's what I was thinkin. But who knows."
"Well, he is a weirdo but I don't imag­ine he stole nothin."
"Yeah, you're prob­a­bly right."
That Mon­day after­noon they loaded the traps back into the bed of Tom's pick­up and drove down to the lev­ee. This time they went down the same lane as usu­al. They set the traps in the muskrat runs on the inside of the lev­ee and took turns point­ing at the deer and turkeys roam­ing around the enclosed fields. They count­ed thir­ty-sev­en deer and eigh­teen turkeys among the bean stub­ble and corn stalks and the sev­en or eight pump­jacks pump­ing oil into the tank bat­ter­ies over by the east bank of the lev­ee. The flares beside the wells seem to bright­en and grow larg­er as the sun set and dark­ness took over for the evening.
Tom point­ed to the gun case hang­ing in the rack in the back win­dow of his truck. "Still got the 12-gauge here if ya wan­na poach one."
After­ward they sipped a lit­tle whiskey as they drove out of the woods in Tom's truck. As per Huck's direc­tion they head­ed east at the coun­ty line until they reached the church, then cut back south, drop­ping back down into the bot­toms. They fol­lowed along the out­side of the lev­ee, the road scarred deep with pot­holes and washouts. The path curved around a bend in the riv­er then stopped at a T. They hung a right and crossed Jackson's Bridge.
"Go on up the road a ways here." He point­ed ahead. "Okay, turn in that lit­tle road up there on the right."
Tom said, "I nev­er have been back in here. I fig­ured the road just end­ed at this old well."
"So did I. But keep on goin. I made it okay in my aunt's junker so we won't have no prob­lems get­tin down through here in this."
It was now dark as they drove down this unex­plored lease road cov­ered with the typ­i­cal hard dusty/oily road pack, trees thick on both sides and over­hang­ing the path except at the wide place where sat an old rusty pump­jack like a dead dinosaur. They ven­tured fur­ther and fur­ther back into the woods then drove through a low-water cross­ing Tom had nev­er seen.
Sud­den­ly the road forked and Tom stopped. "So what was you and Amy doin way back in here?"
Huck ignored the ques­tion and said, "See, if ya just keep goin to your right, you'll come to the back­side of the lev­ee, the south side. Okay? But see, if you took this here road to the left, you'll come out right behind McDougal's farm."
"Oh bullshit."
"I'm tellin ya. This comes out at that oil well behind McDougal's house. Back behind his sheds. The pumper has to go down his dri­ve­way to get back there to pump that well. He don't come this way."
But Doubt­ing Thomas had to see it for him­self. He veered to the left and head­ed toward McDougal's farm as Huck lit a cig­ar and rolled down his win­dow. Soon the path widened and they could see the oil well flare glow­ing just over the next rise but as they topped that hill they sud­den­ly drove up on Fred McDougal's pick­up parked cross­ways in the lease road. "Oh hell. There's McDou­gal," Huck said.
Tom shut off his truck and cranked down the win­dow, lis­ten­ing to that labor­ing pump­jack, like a trib­al drum. Huck said, "Let's get out­ta here," but Tom had already climbed out.
They heard voic­es among the sil­hou­ettes and as they walked clos­er to Fred McDougal's truck they saw Fred point­ing a shot­gun in the face of a man on the ground while his son-in-law Archie aimed a flash­light in the same direc­tion. Fred and Archie were dressed alike in prac­ti­cal­ly new Carhartt jack­ets and work­pants. Caps on their heads.
The filthy man on the ground wore dark thin dress pants and an old black sports jack­et. His ivory ankles shin­ing between the cuffs of his pants and his cheap blue ten­nis shoes. No socks. A red and blue sock-cap askew on his head.
Huck puffed on his cig­ar. He could tell it was Wal­ter from town and noticed a bicy­cle lying in the weeds. The flare from the oil well blazed a dull orange, cast­ing a goth­ic glow over the imme­di­ate land­scape. Beyond that the world seemed dis­tant and dark to the east. On the oth­er side of the lease road a com­bine sat idling in the corn­field. Up ahead Huck could see a trac­tor hooked to a grain wagon.
McDou­gal said, "You boys been trappin?"
"We sure have," Tom said. "We uh… we just come in a dif­fer­ent way this time cause we's thinkin about set­tin a few traps on the south end of the lev­ee here."
McDou­gal said, "You should've hung to your right where the road splits back there. That'll take ya to the back­side of the levee."
The boys stared at Wal­ter who seemed to be regain­ing con­scious­ness, as if he had been knocked out.
Tom said, "What's happened?"
"You boys might as well go on home and for­get about all this," McDou­gal said. "No need for you to get mixed up in it."
Huck noticed Wal­ter didn't have any teeth and then he real­ized the bloody mouth and the bro­ken den­tures on the lease road. He tossed his cig­ar down and mashed it out with his boot.
"Don't leave me with em, boys," Wal­ter slob­bered. "They'll kill me."
"Shut up, dumb ass," Archie said.
Wal­ter leaned up on one arm. "They's fix­in to kill me before you all got here."
"No, we was gonna call the sher­iff and have him haul you back to the nut­house," McDou­gal said.
"What did he do?" Tom inquired as if work­ing for the local newspaper.
McDou­gal turned to Tom but kept the gun in Walter's face. "He was up at the house, nosin around. Lookin in the win­dows like he does. When I seen him, he took back down through here and I hollered at Archie there on the CB. He was shellin corn right yon­der and then when I come down the lease road here in the pick­up Wal­ter here run right into Arch."
"I'm tellin ya," Wal­ter said. "I was ridin by on my bike and saw two guys slip­pin into that west shed of yours. They's gonna steal some tools or somethin."
"Then why'd you take out down this way when I hollered at ya?" McDou­gal said.
"The way you was wavin that there gun I fig­ured you was gonna shoot me."
Arch said, "He ain't as dumb as he looks."
"So I guess we was lucky you just hap­pened to be ridin by on your bicy­cle. You was pro­tectin us from those thieves."
"That's right," Wal­ter said.
"Well, I didn't see nobody else run through here," Archie said.
"Them guys didn't come this way," Wal­ter said. "They head­ed west. Prob­a­bly had some­body wait­in to pick em up in a car down the road."
Archie kicked him in the ribs and said, "How many times you been caught lookin in on some old lady changin clothes? How many times you been arrest­ed for makin obscene phone calls? How many times you done been down to Anna to the nuthouse?"
Tom said, "Have you already called the Sher­iff or…"
"We'll haul him back up to the house and use the phone here in a minute," Fred said.
"Don't leave me, boys," Wal­ter called out again.
In town Wal­ter usu­al­ly scur­ried across to the oth­er side of the street just to avoid Huck and Tom. Not that they would ever have punched him or any­thing, just maybe unleashed their vul­gar teenage mouths. But now here Wal­ter was grov­el­ing, beg­ging for help, as if he thought for some rea­son they were on his side.
"Shut up, Wal­ter," Archie said. He kicked Wal­ter in the head. Then the ribs and groin.
"Hey, now," Tom said. "Hey!" He could not fea­ture them actu­al­ly killing Wal­ter but Archie just kept stomp­ing him until final­ly Huck stepped back toward Tom's truck. He reached in the open win­dow and pulled Tom's 12-gauge out of the unzipped case. When he stepped back around the truck he said, "Get off him."
Archie stepped back and said, "What are ya doin, takin up for that sick bastard?"
"Look here, Huck­le­ber­ry," McDou­gal said. "You bet­ter think about this for a second."
The pump­jack con­tin­ued drum­ming its trance-like rhythm. Thump thump thump thump thump thump BAM thump.
After Wal­ter some­how man­aged to sit up on his knees McDou­gal pushed the bar­rel of the shot­gun against his whiskered cheek.
"What're ya gonna do if we just shoot him?" Archie asked him. "Are ya gonna shoot us?"
Huck had not thought that far ahead but he knew he did not want to shoot anybody.
"Maybe," he said.
"You boys got your head in the clouds," Fred McDou­gal said. "Takin up for this pervert."
"We're not takin up for nobody," Tom said. "But you need to either call the cops or… or somethin."
"Don't tell me what to do, boy," McDou­gal said. "I work my ass off to raise a fam­i­ly and do what's right and then ya got peo­ple like this. Or ya can't even call em peo­ple, real­ly. Run­nin around — rapin — doin what­ev­er the hell they want."
"Then let's call the cops," Tom said, already envi­sion­ing his name in the paper once again.
"What're they gonna do, lock him up again for a cou­ple months? It obvi­ous­ly didn't help the last time. He just can't con­trol his urges," McDou­gal said.
"Go ahead and call the law," Wal­ter said. "Maybe they can catch them real thieves before they get plumb away, then you'll see."
"Shut up, Wal­ter," they all said.
"Ough­ta lynch ya right here and now and be done with it," McDou­gal said.
"I thought you was sup­posed to be real reli­gious or some­thin," Huck remind­ed him sarcastically.
"Hey now, I am a God-fearin man," McDou­gal said. My whole fam­i­ly — we're good peo­ple. Unlike this thing. So don't even start that nonsense."
Tom did not real­ly know what to say but for some rea­son he said, "Uncle Silas said the rea­son every­body out here start­ed dri­vin into town for church now is because your fam­i­ly ran em all off."
"Your uncle can kiss my ass," Archie said.
McDou­gal said, "Hey now, we work hard down here at the church. All of us. Me and Lav­erne. And Tina and Archie here. Dar­ren and his wife Car­la. Dar­ren even fills in for the preach­er some­times. But that ain't got noth­in to do with this."
"Your son Darren's a preach­er?" Huck asked. "The one who embez­zled all the mon­ey from the Co-op?"
"Now… that was just a mis­un­der­standin. And every dime of that was paid back. We're good people."
"So I guess it ain't stealin if you pay it back, huh?"
"You don't know noth­in about it, Huckleberry."
"I know if it'd been me or any of my friends we'd been in jail, not some­where fill­in in for the preacher."
Wal­ter chuck­led weak­ly and spit blood onto the lease road.
Fred McDou­gal, Archie, Wal­ter, and even Tom were all star­ing at him and Huck was not sure where he was going next. What should he say and do? What was Tom thinking?
Sud­den­ly Wal­ter made a clum­sy grab for the gun in his face and a shock­ing blast explod­ed in the coun­try night.
Noth­ing much remained of Walter's face. It remind­ed Huck and Tom of a bust­ed watermelon.
Final­ly Fred McDou­gal said, "He just… he just pulled on the bar­rel… he… I… I wasn't real­ly gonna shoot him."
The boys stepped back toward Tom's truck.
"Where are you goin?" Archie said.
"Home." Tom tast­ed bile in the back of his throat. "You can call the cops yourself."
"You're wit­ness­es," McDou­gal insist­ed. "You got­ta tell the law it was an accident."
"Oh, I'm sure they'll believe what­ev­er you tell them," Huck said. "You're good peo­ple, remember?"
Archie start­ed after them but McDou­gal said, "Let em go."
So the boys quick­ly left the scene, know­ing this time they would not be heroes in the news­pa­per. The town would not cel­e­brate them and their class­mates would not be impressed.
Though the boys did won­der what would became of Walter's body. Would McDou­gal call the sher­iff? And if so would he men­tion Huck and Tom had been there? Would the sher­iff decide keep­ing the whole mess qui­et was the best res­o­lu­tion for every­one. That McDou­gal had per­formed a pub­lic ser­vice by rid­ding the com­mu­ni­ty of a per­vert? Or would Fred and Archie sim­ply and qui­et­ly chain Walter's corpse to a con­crete block and sink it in the riv­er? Along with his old bicy­cle? Nev­er telling any­one, not even their own wives, what real­ly hap­pened? Should the boys head straight to Becky's father the judge with this sto­ry? Or should they sim­ply for­get it ever happened?
But none of that real­ly mat­ters. If the sto­ry con­tin­ues Huck and Tom become adults and that sto­ry is not meant to be.
Tom does not mar­ry Becky Thatch­er and even­tu­al­ly become a veg­e­tar­i­an and Huck nev­er lives long enough to die in a car wreck or any oth­er unfor­tu­nate mishap. In some form or anoth­er Huck and Tom are des­tined to relive those years from age ten to sev­en­teen for eter­ni­ty. The name of the riv­er does not mat­ter. Nor does the year or the name of the town. Nev­er will Huck or Tom grow up or grow old and right now they are out there some­where liv­ing the only way they know how. And that is the way it should be.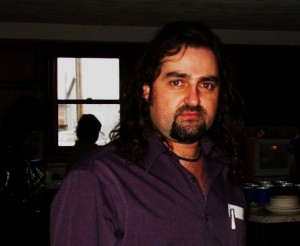 Joey Dean Hale is a musi­cian and writer in the St. Louis area. He received his MFA from South­ern Illi­nois Uni­ver­si­ty at Car­bon­dale and has pub­lished sto­ries in sev­er­al mag­a­zines, includ­ing Tem­po­rary Infin­i­ty Press, Mar­co Polo Arts Mag, and Octave Mag­a­zine, which also has his song "High Noon" post­ed online. In Sep­tem­ber 2012 he was the fea­tured writer in Pen­du­line Press — Issue 6 "WTF" — which includ­ed four flash fic­tion pieces and an inter­view with the author. He has sto­ries forth­com­ing in The Dying Goose and Foli­ate Oak Lit­er­ary Mag­a­zine.