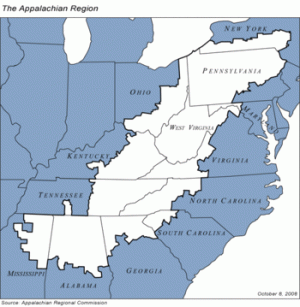 This post is a con­tin­u­a­tion of what I want­ed to do with FCAC from the begin­ning; that is, to reg­u­lar­ly post rel­e­vant news and tid­bits as relat­ed to lit­er­a­ture and Appalachia and so forth. I get a fair num­ber of arti­cles worth shar­ing, so I'm going to do one news post a week. Feel free to com­ment. It'll be more fun for every­body. Please please feel free as well to email me sim­i­lar arti­cles you find in your inter­net trav­els. I'll post a link to your site if I end up using a link you send me. Hit me up as well if the URL no longer func­tions, or if you have any oth­er ques­tions. rusty.​barnes@​gmail.​com
These arti­cles were found (most­ly) through Google alerts attached to the terms 'hill­bil­ly,' 'red­neck,' 'white trash,' and 'Appalachia,' with occa­sion­al arti­cles lift­ed from the Appal­net listserv.
A.M. Homes' Lat­est Char­ac­ters Rich White Trash?
Grow Appalachia Pro­gram begins at PMSS
Unearthed arti­facts help pin­point key Hat­field-McCoy fam­i­ly bat­tle in east­ern Kentucky
Moun­tain res­i­dents want to be allowed to con­tin­ue killing maraud­ing elk
TV's 'Jus­ti­fied' might not film in Ken­tucky, but its sto­ries are firm­ly root­ed in state
Stop­ping the decay: den­tal woes in Appalachia
U.S. Coal Indus­try Not Well-Posi­tioned to Ben­e­fit From Increased Short-Term Glob­al Demand
EPA's Progress Report on the Effects of Hydrofrack­ing on Drink­ing Water