He was quite cer­tain that life most­ly was noth­ing but cre­ation and evo­lu­tion. Boys were sup­posed to become men and all that shit, and the men build fam­i­lies and hous­es and empires. He thought a lot about the word man, and the word man was dif­fer­ent than the idea of a man, and the idea of a man was noth­ing but a social con­struct forced upon him.
Most men fight demons and they spend so much time fight­ing demons that they just stay. Stunted.
He was deep in thought and did not want to have sex with his girl­friend. Sex with him, he knew, was an event that took too much ener­gy. He want­ed to save his ener­gy for pon­der­ing. He knew she real­ly want­ed to, though, because her eyes and her hands became needy crea­tures with fangs and a bone to pick with him for not giv­ing her every­thing she wanted.
He let her give him head, and she seemed fine with that. He didn't ask if she need­ed any­thing in return, but she didn't seem to be unsat­is­fied so he just let it go.
He actu­al­ly thought maybe a nap would be bet­ter than think­ing. His girl­friend asked him for his cred­it card, and he gave it to her so she wouldn't both­er him for awhile. Most­ly, he liked to be alone.
Most men stop fight­ing only to rest their minds.
"Have you ever watched a per­son die?" He asked his girl­friend, who was done shop­ping, and was lin­ger­ing around his per­son­al space until he noticed her.
"Is this some role play­ing game?" She asked, sud­den­ly excit­ed. Her eye­balls leaped across the room and did a joy­ful dance. He stared blankly at her sil­ly eyes.
"You are stu­pid. I am not sure why I love you." he said, and she took it as a compliment.
"Most peo­ple have bod­ies of water, but you have a body of Vod­ka," she said, and he took it as a compliment.
"Your reli­gion is one of apa­thy. You wor­ship not giv­ing a shit about shit." She told him, on the last day they spent together.
Lat­er on, she told her friends he was prob­a­bly gay. This was the only expla­na­tion for how lit­tle they had sex, and why he hard­ly looked up from the movie he was watch­ing when she final­ly left for good.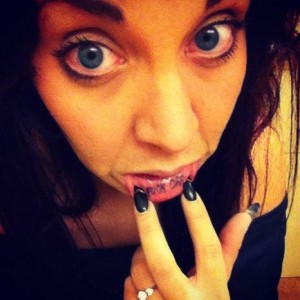 Lara Konesky is a 33 year old part time ESL teacher, lazy bum ass, and writer from Colum­bus, Ohio. Her first book, Next to Guns, can be found at www​.griev​ousjone​spress​.com (Griev­ous Jones Press, 2009). She co-edit­ed (with Andrew Tay­lor, Erbac­ce Press) and con­tributed to Blood at the Chelsea (Erbac­ce Press 2010), an anthol­o­gy of writ­ers writ­ing for oth­er writ­ers. You can also read Lara's work online and in print at New Aes­thet­ic, Gut­ter Elo­quence, Curb­side Splen­dor, Word Riot, Left Hand Wav­ing, and var­i­ous oth­er rad places.…