All the old men
from the Beartown
Church of God
call me Sissy.
There's Ligey
and Whirley
and Johnny
and my Mamaw's cousin,
who found Jesus
after he beat cancer
a cou­ple years back.
They're work­ing Men
of God.
They reminisce
about their drink­ing days,
and trade around trucks,
and sto­ries about bad kids
and wors­en­ing eyesight.
When they think I'm eighteen,
they grin at the possibilities.
When they find out I'm thirty,
the grins get a lit­tle sad
and soft around the edges,
at the thought
of the waste
of a good pair
of breed­ing hips.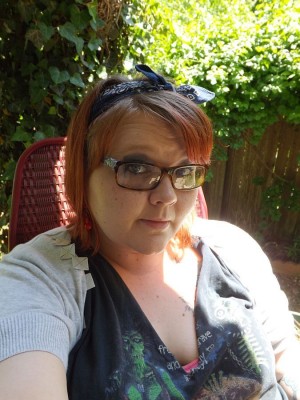 Misty Marie Rae Skag­gs, 31, was born and raised in East­ern Ken­tucky and feels a deep con­nec­tion to the Appalachi­an region, its peo­ple and lit­er­a­ture. She cur­rent­ly resides way out at the end of Bear Town Ridge Road in Elliott Coun­ty. Skag­gs' poet­ry and prose have been fea­tured in lit­er­ary jour­nals such as New Madrid, Pine Moun­tain Sand & Grav­el, Lime­stone and Inscape and she has self-pub­lished two well received chap­books, avail­able by con­tact­ing the broke-ass author her­self — misty_​marie@​rocketmail.​com. When she isn't writ­ing, Misty enjoys vol­un­teer­ing to "teach" writ­ing to angsty, hill­bil­ly high school kids as well as tak­ing long, woodsy walks with her dog Bosco and work­ing the yard sale circuit.